Have you met Maicerto Callazturis? If not, you really should get to know him because he has been far and away the MVP of the first quarter of the Angel season.
Sure, Danred Wearen has done an amazing job of leading the pitching staff while the Halo offense has been anything but impressive, but he still isn't the MVP. No, as great as he has been, this team still wouldn't be in first place in the AL West (oops, not anymore, thanks blowpen) at this early stage if not for the decidedly unexpected offensive contributions of Maicerto Callazturis.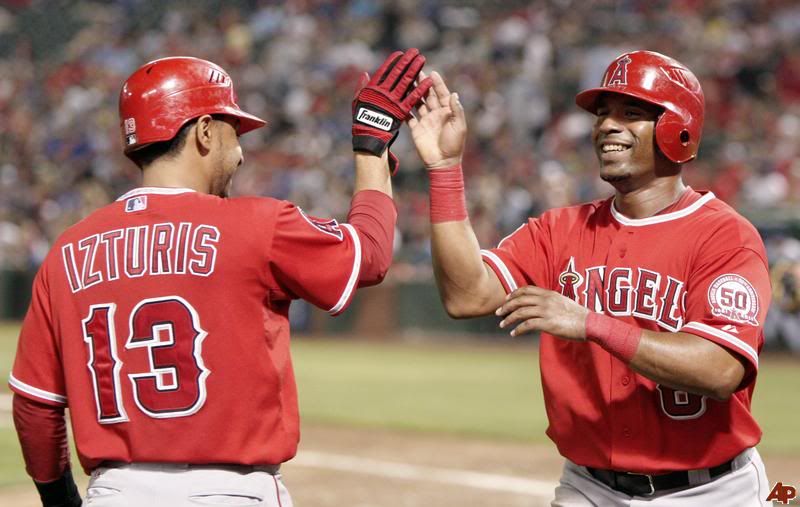 Two have become one to form: MAICERTO CALLAZTURIS!!!!
It is only fitting, really, that Maicer Izturis and Alberto Callaspo have come together to form one of the most unlikely and capable 1-2 lineup punches in all of baseball. For years, Mike Scioscia has shown a strong affinity towards Izturis, using him in every way shape and form he could conceive. When the Angels then traded for Alberto Callaspo last season, the main reason they trumpeted the trade was because Callaspo gave them a player who was just like, you guessed it, Maicer Izturis!
Now, as fun as that comp might be, the two aren't exactly carbon copies of each other. Izturis has more speed, is usually more patient while Callaspo typically has a bit more pop in his bat. But with Izturis posting a .319/.366/.467 slash line and Callaspo putting up .312/.370/.418, they are certainly similar enough which has to be exactly what Scioscia was hoping for, two versatile offensive weapons, even if they are underrated outside of the organization.
Funnily enough, what Mighty Maicer has always been so lauded for is his clutch situational hitting, something he has struggled a bit with this season. In 38 at-bats with runners in scoring position, his average is just .237 and his OPS a mere .564. How very un-Izturis like. With Izturis featured so prominently all over the top of the Angel order this season, that kind of RISP failure would usually be good enough to hamstring an already wimpy offensive attack. Good thing the Angels went out and got that handy dandy Izturis clone.
Maligned for his unabashedly awful 2010 Angel debut, Callaspo has quickly turned himself from persona non grata to a central figure in the Angel lineup, literally. Not in a million years would I have ever expected, much less wanted, Callaspo batting fourth and fifth or sixth in the Angel order, but his offensive versatility, much like Maicer's, has won me over. While Izturis hasn't been delivering the clutch hits, Callaspo has been producing them in bunches. His RISP numbers in 2011 are .333/.395/.410, which certainly explains why he is tied for the team-lead in RBIs and is now a seemingly permanent fixture in the heart of the Halo lineup. Sure, his extra-base hits have been sporadic at best, but you know what else has been sporadic for him with runners in scoring position? Strikeouts. While most of the rest of the team has seen their whiff rates increase and/or struggle to make productive outs, Alberto has gone down swinging just once in RISP situations. Ladies and gentlemen, that is a clutch hitter right there.
But what of Izturis? How can he be the other half of this co-MVP equation if he has been such a RISP liability? Well, Callaspo, who is tied for the team lead in RBIs, has needed someone to drive in hasn't he?
Let's rewind to before the season and reminisce about all that hand-wringing over who would bat leadoff for the Angels. It seemed like the Halos had nobody to fill that void, so Sosh dipped into his old bag of tricks and gave the job to Izturis. All Maicer has done since then is completely solve the leadoff problem by getting on base to the tune of a .402 OBP whenever he leads off. That kind of on-base ability is something none of us would have even dreamed of before the season began.
Of course, Izzy's contributions don't stop there. While he was holding down the fort at the top of the order early on, he was also affording Erick Aybar the opportunity to get his confidence back further down the lineup card. With Aybar now ready to take over leadoff duties, Izturis has moved on to filling the other holes, and there are aplenty, in the lineup. Maicer is now doing his best to bring the same level of stability to the three-hole that he brought to the top spot. He hasn't exactly been knocking the cover off the ball in that role, but he at least remains a tough out in position that has been an offensive vortex of late.
Sure, other teams have tandems like Pujols-Holliday, Braun-Fielder, Gonzalez-Youkilis and so on, but when you don't have that kind of talent at your disposal (or have it either on the disabled list and/or performing incredibly poorly), you have to make due with what you can and the Izturis-Callaspo tandem have been Scioscia's latest master stroke, keeping the Angel's offensive head just far enough water for them to take advantage of the stellar pitching the rotation has delivered.