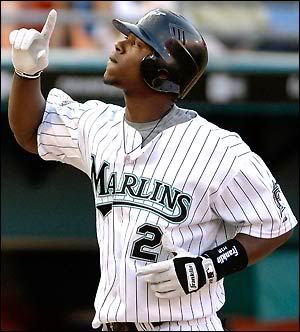 Welcome to the brave new world of the free-wheeling, big-spending Angels where no deal you can imagine is beyond the scope of reality!
You'd think that after landing Albert Pujols and C.J. Wilson in one morning, the Angels would be more than done with their off-season maneuvers, especially big-ticket acquisitions. Well, that apparently is the case, not according to the rumor mill anyway because you'll never guess who has been linked to disgruntled All-Star Marlins shortstop Hanley Ramirez. Go ahead, guess.
Yep, that's right, the Angels and Arte Moreno's big fat checkbook.
Does this rumor hold water? Sure, in the sense that Angels have the right trade pieces to match up with Miami and, apparently, enough cash to make it happen.
But also, no, not at all. The whole reason Ramirez is supposedly unhappy in the first place is that the Marlins want him to shift from shortstop to third base, which is exactly what the Angels would likely do if they were to acquire Hanley.
Normally that would give me enough cause to give up on the whole idea, but that was me thinking about the old Angels. The pre-Pujols Angels. The Tony Reagins Angels. But now we're talking about the Dipoto Angels. The Angels who can make big splashes, plural. The Angels who can do the seemingly impossible by prying Albert Pujols away from his beloved Cardinals.
So I say, why not Ramirez too? It might just be fantasy at this point, but let's take a look at what it would take for the Halos to get the Fish to cough up Hanley Ramirez. After all, fantay has a way of becoming reality for the team from the Magic Kingdom lately.
The most obvious trade chip here is Ervin Santana. The Marlins have been working hard to upgrade their pitching staff, which is why they went hard after C.J. Wilson even after they landed Mark Buehrle. Ervin should be perfect for them.
He costs a bit over $11 million next season and then $13 million, assuming they pick up his option, in 2013. Miami can apparently foot that kind of bill now and I'm sure they wouldn't mind having a short-term commitment on the books after they committed big long-term money to Jose Reyes, Heath Bell and Buehrle. Plus, HanRam makes $15 million in 2012, $15.5 million in 2013 and $16 million in 2014, so they actually save money, at least so far. Plus, I feel like Santana would carve up the pitcher-friendly National League, especially if the new Marlins stadium plays like a pitcher's park.
But Santana alone isn't going to get the deal done, which is where things get complicated. Normally you could just throw prospects at the penny-pinching Marlins, but they seem to fancy themselves as contenders now, so they are probably going to be more interested in guys who can help them out right now. In that case, I would offer them Alberto Callaspo. He isn't great, but he is a guy that can help fill their present void at third or maybe even help out at second base. Alberto isn't a big piece of the trade, but he'll help, and it isn't like the Angels need him with Ramirez taking over the hot corner full-time.
Alas, the Angels still need to significantly sweeten the pot. The only way I can see them doing that without giving up someone they really need is by forking over Hank Conger. Miami needs a catcher, especially a long-term one. Conger is perfect for them as a star-type prospect that they can sell to their fanbase with the added bonus that he will play for dirt cheap for the next few years. Sure, the Fish are giving up a MVP caliber player, but they are getting back a #2 starter, an average starting third baseman and talented, young, slugging catcher. That isn't a bad retrun. I'm also not sure it is a good one.
Honestly, if that doesn't do it for the Marlins, I am not sure what else the Angels can safely offer. Maybe Jeremy Moore will intrigue them as a solution for their center field problem, but I doubt it. He is a great athlete, but he isn't anything special. The Angels sure as heck aren't going to give up Trout or Bourjos. At this point, the Angels would either have to make an abrupt change to the package and replace Callaspo with Howie Kendrick or convince the Marlins to take on another quality prospect. I doubt the Angels give up Howie since he seems like he has become a key building block for them, plus it makes the upgrade to Hanley less so. I also don't know if the Marlins are going to want Kendrick when he is a year from free agency. I also don't know if they are going to want another prospect. Again, they are trying to win now. Unless the prospect is someone like Garrett Richards who can help now, the prospect won't be able to help right away. But that just creates a problem for the Angels because they then lose the guy who would take Santana's rotation spot.
In fact, the whole idea of making Santana the centerpiece of the deal carries that issue. The Halos would be laying out a three-year commitment of $46.5 million and still have to find a way to plug a hole in their rotation. Of course, this is the new Angels. They could just throw cash at Edwin Jackson or Hiroki Kuroda or even Joe Saunders.
The other hidden factor here is figuring out what to do with Mark Trumbo who really wouldn't have a place to play with Hanley at third. They could trade Trumbo I suppose, but this really then becomes a convoluted mess of moving parts. In fact, it is making my head spin.
Good thing this has no chance of happening since Ramirez won't play third base, but it was fun to pretend, right?