We'd all prepared ourselves for the worst when we first heard that Kendrys Morales might not be ready for Opening Day, but now that it has come to pass, it is time we figure out what his early season absence will mean to the rest of the team.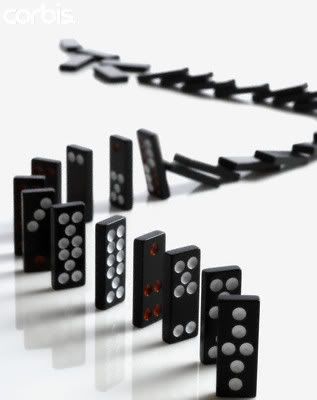 Let's just hope the Morales domino doesn't break its leg when it falls over.

The first domino has fallen, Kendrys Morales is headed for the disabled list, this much we know. Though his absence figures to (hopefully) be short-lived, there is an immediate need to fill his shoes (or protective walking boot, as it were).
Domino #2: This at least solves the whole "what do we do with Trumbo?" problem. Actually, this situation couldn't be more perfect for the Angels and Trumbo. He gets the reward of not only making the team but also getting significant playing time after his torrid spring performance. The Angels then get the luxury of giving Trumbo a short-term audition to prove that he can be a productive everyday player when the games actually count without having to disrupt the lineup by trying to carve out at-bats for Mark. If he fails, no biggie, Morales will be back soon. If he thrives, then the Angels have a problem on their hands, but it is the kind of problem teams love having.
Domino #3: Brandon Wood potentially gets a stay of execution. This is no sure thing, but I am not buying the notion that Wood's days are numbered in Anaheim. If they are numbered, said number just got increased. Wood has actually quietly started to put together some not terrible numbers in the Cactus League, so he hasn't quite played himself off the roster… yet. Morales' DL stint also creates an extra opening on the active roster that was supposed to be a battle between him and Trumbo, but now they both win. Hooray! Still, if I am Woody, I'm only signing a month-to-month lease when the Angels break camp and head back to Anaheim.
Domino #4: The top of the order now gets much weaker. Yes, I know Morales hits in the middle of the order, but one can never fully anticipate the machinations of a Mike Scioscia lineup. Earlier this winter there was some lively debate as to whether the Angels were better off having Bobby Abreu bat first or second. The logical conclusion now that Kendrys is out? Hit Abreu third. Huh? Rather than having Abreu set the table, Sosh is going to ask him to clear it, though it figures to be empty more often than not since it will be Aybar, Kendrick or Callaspo batting second instead now. Heck, it could be even worse and two of those guys could be manning the top spots in the order when Izturis gets days off.
Domino #5: Somehow the lumbering first baseman can't get healthy and it puts all the pressure on the speedy young centerfielder. I know that makes no sense, but it is definitely going to happen. Even with this DL stint, Kendrys is still going to have to DH plenty once he rejoins the team and that means Scioscia is going to have to find a place to play Bobby Abreu or put him on the bench. The obvious odd man out is Peter Bourjos, especially if he isn't producing offensively. I know the Angels are all about committing to improved defense this year, but they aren't going to sit Hunter or Wells very often and Abreu is going to get regular playing time, even if it is in the team's best financial interests to reduce Abreu's plate appearances and possibly avoid having his 2012 option vest.
Domino #6: I'm not sure exactly how they are related, but I think the US decided to bomb Libya once it was announced Morales was going to start on the DL.
Domino #7: Mark Trumbo is now effectively untradeable. He probably was almost untradeable already, but now that there is little doubt that Morales' health problems are going to linger, the Angels can't even think about dealing away Trumbo, which kind of stinks because, despite his torrid spring, it isn't totally clear if he is in the team's long-term plans and his trade value is probably at an all-time high now. Just think of what kind of starting pitcher he could bring back if he is the centerpiece of a package to land a replacement for Kazmir (should he continue to suck) or Pineiro (should his shoulder problem turn out to be serious).
Domino #8: A long-term issue of this recovery delay is that it is going to make contract extension and abritration negotiations even more muddled now. Barring him exploding for a monster season and having absolutely no leg problems once he comes off the DL, the Angels are going insist Morales is a health risk, therefore he should earn a bit less money than his stats suggest. Scott Boras probably isn't going to agree, you know, since he is Scott Boras, so don't count