I know this is Top Ten Thursday, but today, I refuse to be bound by any numeric limitations because today I am doing my own personal power ranking of all the players on the Angel roster. Talent? Performance? Please, I'm far too subjective to base this ranking on anything so objective. Nope, the only thing that matters is how much I like or dislike the player (apologies in advance to Scott Kazmir). Let's do it!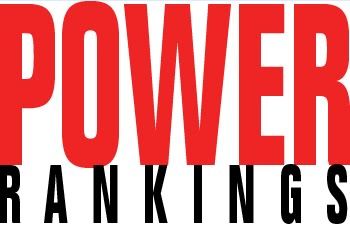 Only I have the power in these rankings!

Jered Weaver. He's my favorite player and the team's best player. As far as I'm concerned, this top spot is his… until he signs with the Yankees after the 2012 season.
Torii Hunter. If you don't like Torii Hunter, you have no soul.
Peter Bourjos. As a former disciple of Darin Erstad, I just have a soft spot for gritty, defensive standout center fielders.
Mark Trumbo. I've done a total 180 on Trumbo. There is a chance I'll end up hating him in a few months, but until then I am going to bask in the glow of his potential greatness.
Kendrys Morales. I'm scared to death that he isn't going to be the same player he was before he broke his leg, but he's the franchise cornerstone until proven otherwise.
Dan Haren. He may not have the arsenal of an ace, but the dude is a bulldog out there and you have to love that.
Kevin Jepsen. I don't know when it happened, but sometime in the last month, I became convinced that he should be the full-time closer. I'm not even sure I know why I think that.
Bobby Abreu. He ain't dead yet!
Vernon Wells. You know, if you totally ignore his salary, he really is quite likable.
Scott Downs. Much like how the backup QB is always the most popular guy in a football town where the starting QB isn't great, the backup closer for the Angels is always pretty popular with me.
Howie Kendrick. I'm just not ready to give up on that much-promised batting title yet.
Bobby Wilson. Because he isn't Jeff Mathis.
Rich Thompson. I don't know if he'll be any good this year, but I do know that Australian people are all cool. No exceptions.
Brandon Wood. I'm turning a new leaf with Woody. Forget about 2010, I choose to believe in him this season. I also choose to pretend I never said that when he has a .501 OPS in June.
Erick Aybar. Once his doctor finally puts him on Ritalin to clear up that nasty case of ADD, I'm sure he'll be just fine.
Joel Pineiro. He probably should be higher, but his "shoulder cramp" scared me into dropping him at least five spots.
Reggie Willits. Your 5'9″ and have never hit a major league homer, enough with the lip snarl already.
Jordan Walden. I worry that he might have a little bit of Jose Arredondo in him.
Maicer Izturis. He may be Mike Scioscia's favorite player, but I just can't get behind guys who are made out of glass.
Alberto Callaspo. A lot like Izturis only healthier and not as good.
Michael Kohn. I haven't seen enough of him to pass proper judgment on him, but he loses points for spelling his name like it is pronounced "cone" but having it actually announced "kahn."
Hisanori Takahashi. Nothing personal against him, I just hate having to type his name.
Ervin Santana. Turn in back-to-back quality seasons and then we'll talk about moving you up the ladder a few spots.
Jason Bulger. This shoulder will self-destruct in 10… 9… 8…
Jeff Mathis. He is NEVER going to hit. Ever. You hear me, Lyle Spencer?
Fernando Rodney. Not only is he an impostor of a closer, but the dumbass won't put his freaking hat on straight. Drives me crazy.
Scott Kazmir. I think my hate for him runs so deep in large part because I got suckered so hard into thinking that he was a potential ace when the Angels traded for him. Not only has he not been an ace, but he hasn't even been average and his demeanor is that of a guy resigned to his fate as a flameout. Damn you, Kazmir!!!!!!!!!!!!!!1!!!ONE!!!11!!