Having trouble filling out your bracket? Well, it is a little late for me to help now, but I can offer some belated advice that should help any Angel fan draw up a bracket that will at least please their Angel fan sensibilities (Win your pool? Yeah, not so much.)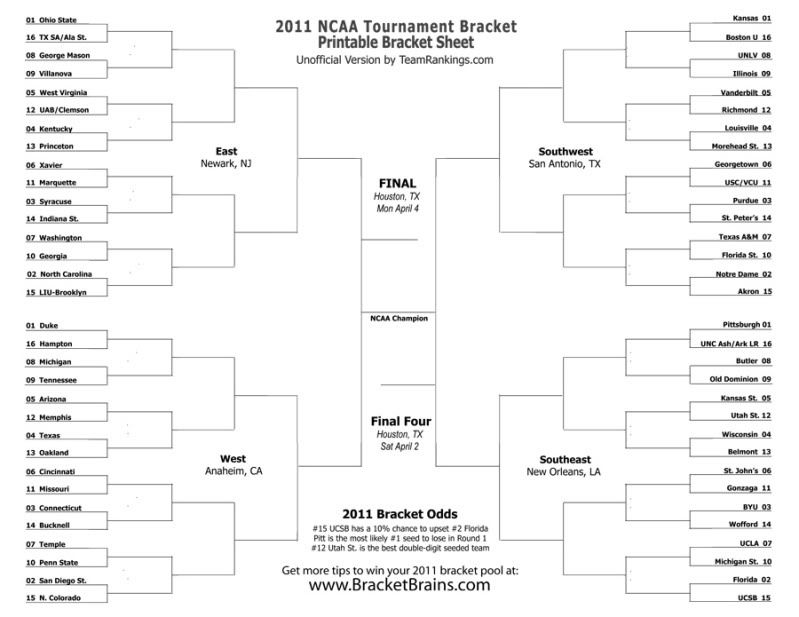 You didn't really think I was going to show you my real bracket did you?

Kentucky. I know not a lot of MLBers go to college, but I can't believe that the only Angel who attended any of the 68 tournament teams is Scott Downs, a proud Kentucky alumnus. I guess that is the best we can, right? At least Kentucky is a legit program, imagine if Downs had instead gone to Hampton or Morehead State.
Penn State. Some consider them a bit of a bracket busting sleeper, but I like them because they are the university that produced our legendary manager Mike Scioscia.
Notre Dame. Since we are already out of Angels who attended college at one of the tourney universities, we stretch a bit and choose the Fighting Irish since that is where Mike Scioscia's son Matt is currently enrolled. Yep, two suggestions in and we are already scraping the bottom of the barrel for ideas.
BYU. Not only is it fun to root for Jimmer Fredette, but rooting for the top college in Utah is a nice way to pay homage to the Angels' Triple-A affiliate, the Salt Lake Bees. At worst, it should cancel out some of the Mormon jokes I've been making.
Princeton. I'm an Ivy League graduate, so I am obligated to root for their March Madness representative (alas, my beloved Big Red won't be relieving their Cinderella magic this season), even if they are a bunch of snooty jerks from New Jersey.
UC – Santa Barbara. I live in Santa Barbara, so I really don't have a choice here.
Whoever is playing against Texas, Washington or Oakland. If only because they represent the AL West rivals (and yes, I am aware that Oakland University is actually in Michigan, but I can't let them have a free ride with that name).
UCLA but not USC. UCLA plays the game right and seems to be in the mix every year… just like the Angels, so they get the nod as local favorite. USC cheats, buys players under the table and is in general disarray behind the scenes. Try and tell me that isn't the perfect team for Dodger fans.
Gonzaga. They are normally a very strong program that makes a decent run in the bracket, but can't quite seem to close the deal. Kind of like the Angels. The Zags though are coming off a down season but now hope to bounce back and take people by surprise since people might be sleeping on them for a change. Kind of like the Angels.
UNC – Asheville. Because a 16-seed has never won a game, which totally means they are due. Put money on this one.