He's tried canceling batting practice. He's tried batting Hunter second. He's even let Callaspo hit clean-up. What other crazy ideas does Mike Scioscia have up his sleeve as he tries to do anything and everything to get the Angel lineup to show some signs of life.
Sosh seems to be getting pretty desperate with his moves now, which makes me worry that he might be running out of ideas. Never fear, The Monkey is here to help with some ideas of his own!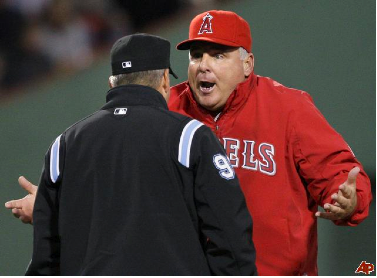 I'm all out of ideas, you got any?
Switch to aluminum bats and hope that nobody notices. PING!!!
Everyone has to switch from baseball cleats to golf cleats.
Remember in Major League when the team motivated itself by taking pieces of clothing off a cutout of their hot female owner every time they won? Instead of that, have them peel a piece of clothing off a cutout of a naked Scioscia every time they lose.
Re-sign Jose Guillen AND Gary Matthews Jr.!
Have Fernando Rodney pitch batting practice. That shouldn't be too hard since he seems to do that for other teams every time he takes the mound.
Pre-game Jello wrestling with the Angels Strike Force girls.
Take Kendrys Morales to the Amgen headquarters in Thousand Oaks, dunk his leg in a vat of stem cells and hope for the best.
Another closed-door pre-game pep talk, only this time its in Aramaic.
Change every batter's walk-up music to polka covers of Ke$ha songs.
Barbecue and eat the Rally Monkey.
Got some ideas of your own to add, leave a comment!