Kendrys Morales may be the best player on the Angels, but apparently that didn't stop us from not knowing how to really spell his name. To atone for this unforgiveable spelling blunder, I figure the least I could do is let everyone know ten other names that Kendrys (not Kendry) would like us to call him.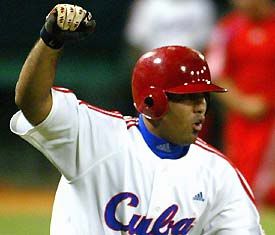 I don't know how, but somehow Kendrys lost an "s" during his escape from Cuba.

The Cuban Ankle Crisis, much like the historical event of a similar name, nobody knows if Kendrys if/when he is going to launch his season. Maybe tomorrow or maybe never, either way a fanbase is holding its breath on an announcement while bracing for the worst.
Julio Martinez, which is the name on his real birth certificate that also says that he was born in 1977. Errr, wait, forget I said anything. Move along, nothing to see here.
The Havana Hammer. Sure, Kendry is really from Fomento, but Havana is probably the only Cuban city anyone knows. Nonetheless, Morales needs a cool nickname and I this is probably better than any of the other lame nicknames (K-Mo, really? That the best we can do?) that have been offered up so far.
El Defector, though I'm not sure he should be bragging about his defecting skills since it took him 12 tries to finally get it right.
Kendrysssssssssssssss Moralesssssssssssssss, just in case he loses anymore s's over the remainder of his career.
The Exploding Victory Cigar. This one works on so many levels. Cigars are, of course, are one of the most well-known luxuries of Cuba. Cigars are also what people used to smoke (before all that cancer stuff started scaring people, wussies) to celebrate victories, a la the victory cigar. But Kendry is the Exploding Victory Cigar, because he is a Cuban whose ankle exploded when he celebrated a victory.
Ken Morales, because then it wouldn't matter if he was missing an "s" and none of us fans would have to try and figure out the proper pronunciation of Kendrys or forget about his corrected first name.
The Player Formerly Known as Kendrys, in which, much like the Artist Formerly Known as Prince, Kendrys will actually change his name to a symbol. That symbol will be a silhouette of a player jumping onto home plate in celebration, but with a big red "X" crossing out that silhouhette. Not only is it a descriptive image, but it does a public service at the same time.
The Grand Slam Kid, because he wants people to focus on the fact that he did something good that fateful day and not on the catastrophe that followed. It's all about being positive.
Macho Crushmaster. No reason, it is just a really awesome name.