I've tried my best to convince myself that Tony Reagins declined to make any deadline deals because he was being calm and rational and realized that he could not make a good deal considering the teams lack of financial and prospect resources. But the more I think about it, the more I can't help but think there are a few more reasons the Reagins REALLY didn't get any deals done.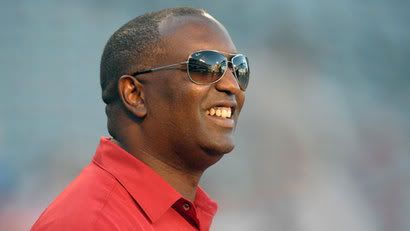 You're going to need a better disguise than that, Tony, if the the Angels end up losing the AL West.

The Angels payroll is so maxed out that Arte Moreno could no longer pay Tony's cell phone bill, so no other GMs were actually able to call him.
Toronto GM Alex Anthopolous was too busy ripping off the Cardinals instead.
In some sort of bizarre body-switching phenomenon a la the new movieThe Change-Up, Reagins' body was taken over by the soul of Bill Stoneman after they both peed in the same Angel Stadium urinal trough at the same time.
He was victimized by Cubs GM Jim Hendry's bizarre decision to hold onto all of his players. Dammit, Jim, Tony really wanted Alfonso Soriano!
Because he got Fernando Rodney back from the DL to bolster the bullpen! No, seriously, that was a real reason.
He got stuck in a Del Taco drive-thru for the entire trade deadline weekend but none of the passing Angel fans would help him out. I can't imagine why that was.
Reagins actually had a deal in place for Aramis Ramirez who was about to waive his no-trade clause, but Aramis backed out at the last second because he didn't want to uproot his family from Chicago when he found out that there is no place in California called "Los Angeles of Anaheim."
Unbeknownst to Tony, the Texas Rangers hired the same guy that hacked into the cell phones for the Weekly World News to hack into Reagins' phone so that they could trump all of Tony's offers for the relievers he was after.
He got frustrated and gave up after all the GMs he was talking to kept bursting into laughter and then hanging up every time he made an offer. Don't they all realize that Vernon Wells is a former All-Star? Don't these other teams want to make a "big splash?"
Tony had to cancel the rumored Jeff Mathis-for-Garrett Jones deal because Mike Scioscia caught wind of the trade and threatened to kill himself since he didn't think he could go on living without Mathis as his catcher.