Ah yes, late-January and early-February, the traditional time of year when everyone and their mother releases their top prospect lists and the fans respond with completely disproportionate levels of anger/excitement/confusion. Yep, there is nothing like seeing random fans freak out because one of their team's prospects ranked in the top 75 but not the top 50 or because one prospect rated with only three stars instead of four. It is all just so ridiculous and ultimately inconsequential that I can't help but get in on the fun. Of course, I'm not prospect guru, so my rankings are a little different. Rather than rate the top 10 Angel prospects by their talent and potential, I'm simply going to rank them according to how much I like them… even if they kind of suck (ok, talent is still going to count for something, but you get my point).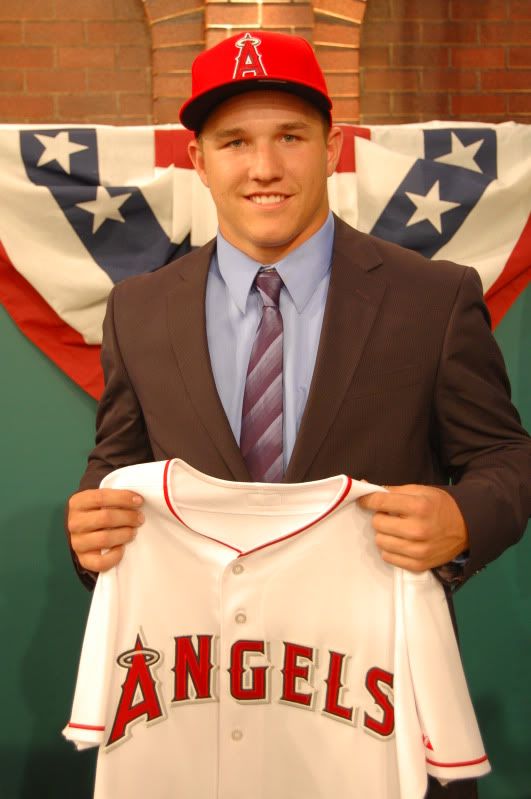 I'll save you some suspense, not even I am crazy enough to have someone other than Mike Trout at number one.

#10 – Loek Van Mil: He's probably a longshot to ever break into the majors but the dude is 7'1″. Who doesn't want to at least get a few glimpses of his giant Dutch ass on a big league mound?
#9 – Trevor Reckling: If only because he is the best option in the minors (some mighy say Trevor Bell, but I'm not a believer in Bozo the Pitcher) to take over Scott Kazmir's slot in the rotation and put us all out of our misery.
#8 – Chevez "Chevy" Clarke: I could say something about his elite physical tools and his first-round pick pedigree, but really, I just like him because he follows me back on Twitter. I'm such a pushover.
#7 – Randal Grichuk: Considering that the Halos have been plowing through free agency and the trade market to find an outfielder that can both field the position and hit for power almost every year to mixed results, you'd think people would have a little more love for Grichuk.
#6 – Jean Segura: Lower than most, I know, but I'm a little gunshy on all these supposedly awesome middle infield prospects the Angel farm system keeps producing. Callaspo, Kendrick, Aybar and Wood (ugh), none of them have exactly blown the roof off their potential, so forgive me if I don't join in on the Segura fervor. I like him, I'm just not going to get too excited about him.
#5 – Orangel Arenas: I fully admit that I don't know very much about Orangel, but his name is Orangel. That's freaking awesome! How could you not root for a guy named Orangel to play for a team in Orange County? I can already see the signs in the crowd "Welcome to Orangel County!"
#4 – Daniel Tillman: I know he is only coming off a season in Orem and thus has a long way to go, but he has closer stuff and his strikeout rate last season was just bonkers. He could rocket throught he Angel system and join the ranks of Jordan Walden, Michael Kohn and fellow excellent relief prospect Steve Geltz in what could be a phenomenal Angel bullpen of the future.
#3 – Garrett Richards: What can I say? I have a special spot in my heart for guys with four potential plus pitches and whose name is Garrett, with two T's. I don't go for any of this one T Garret nonsense.
#2 – Hank Conger: His power has yet to really manifest itself, but anyone who could potentially result in Jeff Mathis eventually being cut loose ranks pretty high in my book.
#1 – Mike Trout: Trout hasn't even played in Double-A yet and I think he might already be my favorite Angel. His legend grows almost every day. By the time he reaches the majors, his feats will be described like the Chicago Bear Superfans on Saturday Night Live used to describe Mike Ditka. Trout versus God? Trout hits for the cycle, but God does get him out once when Trout robs himself of a home run by climbing the center field wall.