Adrian Beltre would have us believe that he chose to join the Texas Rangers because he wants to win.
Yeah, right!
Seeing how Beltre is so used to winning, what with his one career playoff appearance and all, I think it is best that we delve into the top ten reasons he is really signing with the Texas Rangers.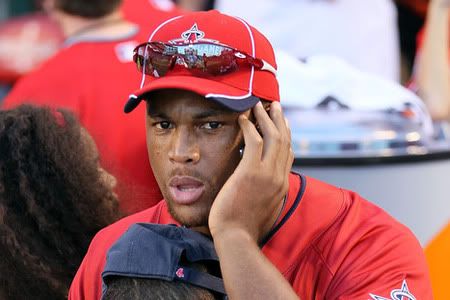 I don't know, tell them something about winning. I don't want everyone to think I am really just a greedy jerk.

Beltre secretly has a desire to play for all of the Angels' rivals before he retires (Dodgers? Check. Mariners? Check. Red Sox? Check. Rangers? Check.). The reason? The world may never know.
Because Adrian finally figured out that if he plays in a hitter's park instead of a pitcher's park, he can put up grossly inflated stats that will fool everyone into thinking that he is more than just an above average player.
Everything is bigger in Texas, including the protective cups which Beltre learned he badly needs after going on the DL two years ago with a torn testicle.
Instead of a no-trade clause, Beltre got a no-head-touching clause.
Scott Boras is actually strapped for cash, so he didn't want the Angels to get Beltre and possibly have to raise the price on Boras' season tickets.
Can you blame him? After last season, it sure looks like Anaheim is where third basemen go to die (see Wood, Brandon and Callaspo, Alberto).
In all seriousness, the state income taxes in California are awful and Texas has no state income tax at all. That is a lot of extra cash in Adrian's pocket.
He missed his days with the Mariners and all the annual ass-kickings the Angels administered. What better place to relive that feeling than Texas?
When he said he wanted to win, he didn't mean baseball games, he meant beer pong. That Josh Hamilton guy should be an easy victory every time now that he is sober.
Straight cash, homey!
http://youtube.com/watch?v=
5-aAitwm_yo[/youtube]