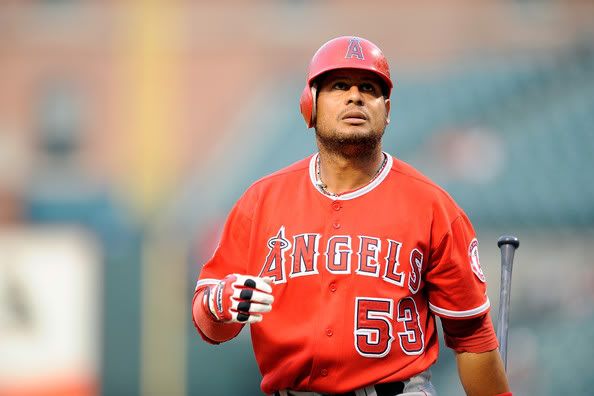 According to Ken Rosenthal, the Free Bobby Abreu campaign has officially begun. Yep, it seems good old (emphasis on "old") Bob Kelly is quietly hoping to be traded, but not actually demanding a trade, though his quiet hopes are loud enough to reach the ears of a national reporter, so it is really the same thing as demanding a trade. The best part though is that Rosenthal thinks that the Angels are doing him a disservice by saying they aren't interested in trading him.
Silly rabbit.
How can a man so plugged in not see what is so clearly a smokescreen? Does he really think the Angels are dying to keep Abreu on their bench for $9 million? Yeah, not so much.
It isn't that the Angels don't want to trade Abreu, it is that they know they probably can't trade him, at least not for anything of value.
Honestly, I think the only reason that anyone thinks Abreu is somehow a desirable trade target is that his name is Bobby Abreu. Bobby Abreu, the former All-Star. Bobby Abreu, the Gold Glove winner. Bobby Abreu, member of the 30-30 club. But that was Bobby Abreu of the previous decade, not the guy the Angels have had playing for them the last two years.
Forget about the name for a second and take a look at these stats, then you tell me if this is a player any team would be anxious to trade for:
In 2010, a slash line of .228/.296/.342 against left-handed pitching
In 2011, a slash line of .238/.319/.279 against left-handed pitching
An ISO of .112 in 2011
A combined .353 OBP the last two seasons
A combined .254 AVG the last two seasons
A combined -9 Defensive Runs Saved the last two seasons
So, just to make sure we are on the same page, you are telling me that there is a big market for a left-handed batter with marginal power that can't hit left-handed pitching who hits for a batting average low enough to mitigate much of his patience at the plate. Oh, and he is a defensive liability too.
I find it hard to believe that another team is going to give the Angels a decent prospect and/or a few million bucks for the privilege of Abreu serving as one half of a platoon at designated hitter.
Why give up any of that when you can give up no prospects and by a similar or lesser amount of money to free agents like Johnny Damon, Hideki Matsui, Luke Scott, Jorge Posada, J.D. Drew, Kosuke Fukudome, Rick Ankiel and so on. Some of those players could well be less productive than Abreu, but probably not by much. Most of them probably can provide more value than Abreu and for a smaller potential cost.
So, again, I ask you, where is this market for Abreu?
The Mariners? Maybe, but I kind of doubt it. They are desperate for any kind of offense, so Abreu might interest them, but they've already got Mike Carp as a potential DH solution and playing him won't require giving any kind of asset to a division rival.
The Blue Jays? They've been looking at lefty bats but they already seem to have plenty with Travis Snider as a prime internal option and at some point they need to do something with Mark Teahen. I just don't see it. Although I secretly kind of hope it happens because it would be comical to see the internet try and figure out how such a deal is really another master stroke from Alex Anthopolous.
The Rays? Last time I checked, the Rays maintained their unlikely success by not wasting assets. A trade for Abreu seems to be just such a waste.
The Orioles? They definitely need a DH. They definitely aren't afraid to gobble up washed up former big name hitters. They generally seem to make bad decisions. OK, this one seems to have legs, but I'm not going to hold my breath.
At best, there is a market of one for Abreu, which doesn't exactly give Dipoto much leverage, which is exactly why he is acting like he wants to hold onto Abreu. Maybe teams might be fooled into thinking Abreu still has something to give if the Angels seem reluctant to let him go? Or maybe Dipoto just knows that he might end up needing Abreu should Morales suffer another setback and Vernon Wells fail to rebound. Bobby isn't much of an insurance policy, but he is the best the Angels have and ridding themselves of him just to save a few million bucks and grab a low-ceiling prospect.
Sorry, Mr. Bowtie, if Bobby Abreu really wants to be freed, he is just going to have to wait a year.