Spring Training officially begins in a few days for the Angels and I have but one humble request from the team. It has always been pet peeve of mine that the Angels almost never take a flier on a veteran and invite him to camp on a minor league contract. It seems like a no-lose proposition to me, but the Halos never take the gamble. With depth potentially one (of many) problems for the Halos, I can only hope that this is the year they finally roll the dice on a veteran rather than count on their minor league system to provide whatever depth they might need. Since this is such a new concept for Tony Reagins and company, I've got a few ideas for guys the Angels might want to consider sending a Spring Training invite to.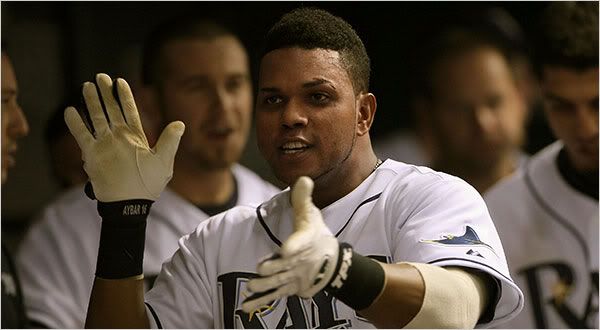 Clap your hands if you want to play for the Angels!

There are loads of more important things the Halos have to address before the season begins than finding some recycled veteran to fill out their training camp roster. That doesn't mean this exercise isn't worthwhile though. Few people are talking about the lack of Angel depth being a problem, probably because they are more concerned about the starting players being any good, but it could most certainly be a problem for the Angels. As of right now, the Angel bench is pretty much light-hitting Reggie Willts, natural disaster Brandon Wood, backup catcher Bobby Wilson and either Alberto Callaspo or Maicer Izturis. Whether it is Callaspo or Izturis on the bench to start the season doesn't really matter because when Izturis suffers his inevitable injury, neither he nore Callaspo will be on the bench. There is also one more open spot for either Hank Conger or Mark Trumbo, both unproven rookies, or a mystery contestant. A bunch of rookies and guys who can barely hit hardly seems like the bench of champions. So, I think we can all see how throwing a veteran into the competition couldn't hurt.
Alas, the Angels waited a bit long to get into the game (so much for my hopes of adding Lastings Milledge), so the pickings are anorexically thin, but it is still worth at least taking a look at who they could add. Now that I've created a completely unnecessary amount of build up, let's dive into the drecks of the free agent market:
Nick Johnson – If you thought Izturis was injury-prone, wait until you get a load of Nick Johnson. The former Yankee is coming off wrist surgery, so he may not be healthy enough to start the spring, but the Angels should at least kick the tires on him since he excels in the one area the Angels lineup needs the most help, getting on base. Johnson is like some kind of walk-drawing savant and sports a career OBP of .401. He's displayed some nice power in the past as well, but wrist problems and homers usually don't mix, so he probably isn't going to be much of a bopper going forward. The Angels would be better off with a righty bat off the bench, but Johnson actually handles lefties well and thus still could make for some nice insurance at first base and DH.
Russell Branyan – I know I said the Angels need a righty, but Branyan has such scary power that it is hard to ignore… even though the Angels ignored him when Kendry Morales got hurt last season even though Branyan was such a painfully obvious choice to replace him. I imagine Branyan can find a situation where he has a shot at more guaranteed playing time, but he might want to at least consider the Halos since there might be a large opening at DH if Peter Bourjos falls on his face this spring.
Troy Glaus – Glaus is such a perfect fit for the Angels that it is almost too good to be true. He can provide insurance behind Kendry Morales at first and possibly platoon at DH against tough southpaws while serving as a potent power pinch-hitting threat the rest of the time. Alas, it is too good to be true since Glaus said he is going to sit out the start of the season and possibly the entire year. Who knows though? Maybe the Angels could talk the SoCal native into giving it a go this season.
Willy Aybar – I would be lying if I didn't admit that this post is a thinly veiled attempt to once again suggest the Halos sign Erick's big brother Willy. The other Aybar is no star, but he has been a useful player in hsi short career. As a switch-hitter that plays the entire infield, you know Scioscia would love his versatility as either a pinch-hitter or spot starter throughout the lineup. Willy probably won't hit for a great average, but he walks a decent amount and has decent pop. Heck, compared to the rest of the options at third base, Willy might even be able to get into the mix to start at the hot corner. What Aybar realy has going for him though is that as Erick's brother, his presence could be an asset to the team if Willy can help keep his baby bro's head on straight.
OK, so maybe I am starting to see why the Angels don't ever sign veterans to minor league deals. I still think Aybar would be a good pickup, but again, they really have nothing to lose by signing any of these four guys to a make-good contract. I think we can all agree though that we would much rather see Mark Trumbo, Chris Pettit, Freddy Sandoval or some other prospect step up and win the final bench spot. Still, I'd feel slightly better if they had a veteran in camp as an insurance policy.
Actually, now that I've seen what is really available here, I think the Angels might be better off waiting until camp is nearly over and seeing what players shake out of other rosters either via waivers or via someone being made available via trade because they got caught in a numbers crunch. Yeah, that makes a lot more sense. At least I didn't waste 1000 words coming to that conclusion. D'oh!