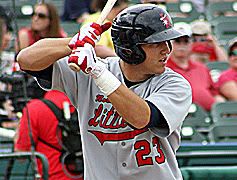 As the old saying goes, you can't keep a good man down, and Mike Trout is most certainly a good man, possibly a great one.
After a torrid prior week, this latest week started off rather tepid, going 2-for-15 with four strikeouts. A four-game skid is little reason for concern for anyone, especially Mighty Mike, who bounced back with a vengeance.
Trout's last three games have seen him go 7-for-16 in his last three games, with three doubles, a triple and three runs scored to his credit.
So why should we care about Trout having such an up-and-down week? Because the finish to his week might be indicative of Trout taking the next big step towards greatness. You see, Trout has had one weakness thus far this year, playing at home. The Travelers play in one of the least hitter friendly parks in the minors, and even he hasn't been able to overcome its draining effects, leaving him with a paltry .250/.301/.441 slash line (and this is after he got hot this last week), including 18 strikeouts in just 68 at-bats, at Dickey-Stephens Park. If his end of the week hot streak proves to be sustainable, then I would consider that to be the final hurdle for him to clear in Double-A. Obviously, three games doesn't mean a whole lot, so it will be worth keeping an eye on him whenever he is at home over the next month or two.
That's it for this week, check back in next week to see what happens to our future hero. Same Trout Time. Same Trout Channel… err, blog.