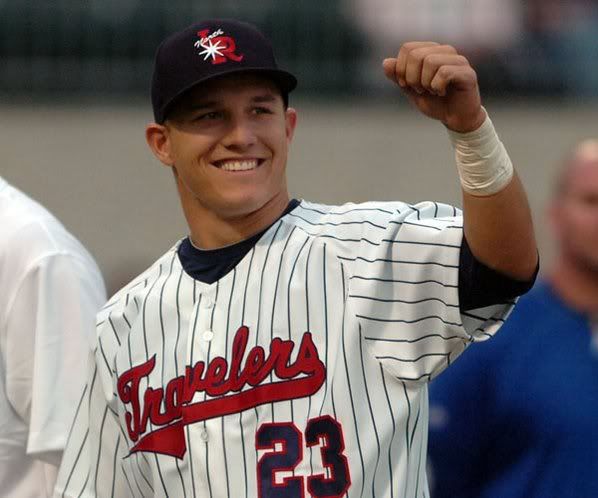 It was another wet week for Mike Trout and the Travelers (is it just me or does that sound like the name of a pretty good rockabilly band?). The Travs did manage to squeeze in three full games plus two seven-inning contests this week, so at least thing are progressing on that front.
As for our future savior, things continued to be a bit soggy for him.
Mike seemed eager to finally get back on the field this Wednesday in Arkansas' first game in five days. Trout ripped off a 3-for-4 game, including two doubles and a triple. After that, it was all downhill.
In the four games following that strong performance, our hero has fallen into his first real slump of the season, going 1-for-14 with one walk and four strikeouts. That little slide has brought Trout's numbers for the season down to .268/.342/.535. That slash line is still very nice, so it really does speak to how well Trout had been playing before this skid.
Now, we must once again play the waiting game to see when Trout will get on the field again as Arkansas has had their last two games rained out. The good news is that the Travs are headed out on the road all week long and the weather forecasts seem pretty promising. Hopefully some dry weather can get Trout back on track for stardom.
That's it for this week, check back in next week to see what happens to our future hero. Same Trout Time. Same Trout Channel… err, blog.