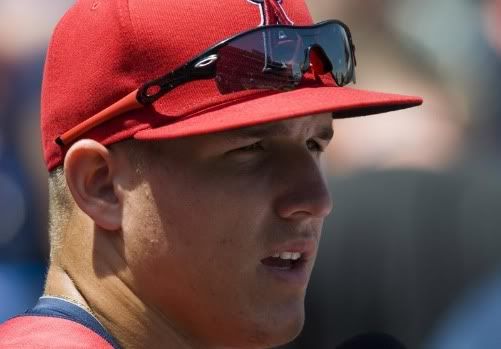 He may be the best prospect in baseball (or at least the best prospect in baseball who isn't a showboating jackass with a pornstache), but Mike Trout is "only" the sixth best hitter in the Texas League.
For all of Mike Trout's many splendored feats in Double-A this year, he still doesn't have the best OPS in his own league. That isn't to say that his .969 OPS isn't impressive, it just is worth pointing out that it isn't the best, but it is close.
Is that supposed to be a dose of reality in regards to how much more development he still has in front of him? Quite the opposite actually.
Take a look at the age of the men in front of him. The league leader, James Darnell, is 24. After him comes Matthew Adams, age 22. Up next is 26-year old Jermaine Mitchell and the two 23-year olds, Vincent Belnome and Tim Wheeler. But why does this matter?
Because Trout is still just 19 years old. He is literally a boy amongst men and he is besting almost every single one of them. His accomplishments and advanced skillset at such a young age are exactly why Trout is considered to be the reigning king of the minors. It is also the reason why the Halos are going to continue to be careful with him and not rush him to the majors despite the public outcry for it. Let's just get Trout up to Triple-A first, and then we can worry about when his big league call-up can be scheduled.
That's it for this week, check back in next week to see what happens to our future hero. Same Trout Time. Same Trout Channel… err, blog.