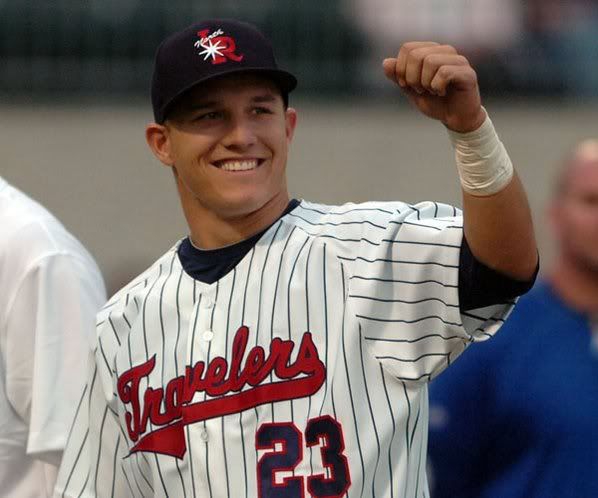 Mike Trout must be getting bored with the minors because I think he is now trying to do his best Dan Uggla impression. By that I mean that Trout has decided to go streaking!
OK, so Trouty isn't anywhere near a 33-game hitting streak like Uggla's, but he is off to a pretty good start. With his two hits last night, Trout is now the proud owner of a nine-game hitting streak. But as we all know, Trout is a multi-tool player, so it should come as no surprise that he is not satiated with just one streak. It turns out that Mighty Mike is also riding a streak of six consecutive games with a RBI. He had also scored a run in four straight games before failing to cross the plate in yesterday's contest.
Does any of this have any real impact on Trout's future? Probably not, but it sure is interesting and a good example of just how much he is owning the Texas League right now, which we already knew. I guess this is just my way of saying that I am running out of new ways to say that Mike Trout is awesome.
That's it for this week, check back in next week to see what happens to our future hero. Same Trout Time. Same Trout Channel… err, blog.