Twitter Trend Tuesday was fun and all, but the fact of the matter is that it didn't exactly draw eyeballs to the ol' blog and that doesn't make my Bloguin Overlords happy. So, I have a new idea: Trout Watch Tuesday! What could be better than a weekly check on the messiah of the Angel farm system, Mr. Mike Trout. The minor league season just started last week, so let's see how our boy Trouty fared in his Double-A debut.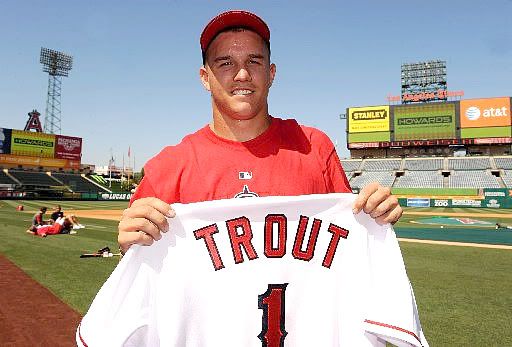 Trout is #1 both on the prospect lists and in our hearts.

The man, they myth, the legend finally made his much-anticipated Double-A debut with the Arkansas Travelers. This poses as a large challenge for even a prospect as highly regarded as Trout. The leap from Single-A to Double-A is a substantial one for minor league hitters, especially when that prospect is only 19 years old.
Sure enough, Trout stumbled out of the gate, taking the collar in his first game with the Travs, going 0-3 with two strikeouts. His second game wasn't much better as he went 0-3 again, but at least he drew a walk, which is fairly important since Trout is the lead-off hitter for Arkansas. Yup, that adjustment period is going to be tough for Mike.
Or not.
In his third game, Trout came alive, smacking his first homer of the season, stealing a base and drawing a walk. He came back to earth the next time out, going just 1-4 with a single and did so again last night. The end result, Trouty has himself a .222 average and .722 OPS to start the season. Which is just so very human of him, so at least he dispelled the rumors that he is some sort of baseball-playing cyborg. Not that anyone should be fretting this "slow" start, but we do have to remember that he can't be all-awesome, all the time, especially when he is acclimating to a whole new level of competition.
That's it for this week, check back in next week to see what happens to our future hero. Same Trout Time. Same Trout Channel… err, blog.