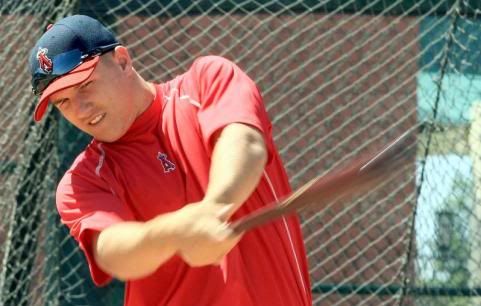 The Trout Tracker is back with a vengeance! When we last saw our hero, we were commenting on him having a pedestrian (by his standards) beginning to his Double-A career. Clearly he didn't care much for that.
His response? Trout, mere hours after my post, went into full Beast Mode, smashing two homers in one game, collecting five RBIs and adding one more single and a walk for good measure. The Texas League was officially put on notice.
Over the next four games, Trout returned to human form and put together a nice little string where he went 4-for-15 with 3 walks, 3 runs, 1 RBI, 1 triple and 2 steals. Ho-hum. That's certainly a nice little string for most mortals, but Trout just wasn't happy enough with it, so he donned his cape once again to put his super powers on display this Monday.
With the Travelers giving up a run in the top of the 13th inning, Trout responded by leading off the bottom half of the inning with a solo home run to tie the game. As if that weren't enough, Trout added a new tool to his utility belt: humility. In that same game, Arkansas got a leadoff double in the 15th inning with the game still tied. Instead of stroking his own ego and trying to win the game on his own, Trout selflessly gave himself up with a sac bunt to advance the runner to third where he would score just a few batters later to win the game.
Bravo, Trouty. Bravo.
That's it for this week, check back in next week to see what happens to our future hero. Same Trout Time. Same Trout Channel… err, blog.