If you are the kind of fan that can't get enough of their favorite Angel player, then Twitter sure is for you. Several of the Halo players are active Twitter users and the things they say, well, let's just say that they lie somewhere between insightful and inane. Let's take a look at what the Angels are tweeting this week!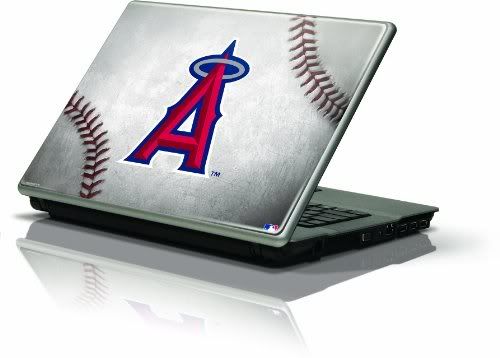 Victor Rojas provides some enlightening TV viewing advice – @VictorRojas29 Just watched the Joey Chestnut highlight from yesterday & when it ended, I burped. I can imagine how he feels.
Can someone get Victor some Rolaids? And maybe the TV remote since he can watch something good for a change? Heck, earlier that day he was saying he was watching 2012, but was basically too lazy to change the channel.
Vernon Wells panders to the military – @VernonWells10 Happy 4th of July!! Thx to all the troops for our independence!
I wonder if this is the first time Vernon has been able to wish a happy 4th of July since he played in Canada up until this year? Maybe he just observed Canada Day on July 1st. Or maybe he celebrated both and thus got twice the fireworks action!
Howie Kendrick thanks his peers for his All-Star vote – @HKendrick47 I appreciate the love guys. It feels great to be voted in by my peers. I'm definitely excited! Once again thanks everyone.
My only wish would have been for Howie to be able to thank the fans, only Angel fans couldn't even get Howie into the top 5 of AL second baseman in the voting.
Pain and philosophy from Torii Hunter – @toriihunter48 Getting hit in the hand last nite was painful but it's a long way from the heart. No broken bones just bruised. Be back real soon.
I love Torii, but he uses platitudes like that all the time in his tweets, blogs and interviews. Normally this wouldn't be a problem, expect I think it is going to lead to him having a long, illustrious post-baseball announcing career where he ends up being prominently featured on Awful Announcing.
…and finally, we save the best for last. Every week, we're going to play a little game called "What the hell is Angels prospect Chevez Clarke tweeting about?" If you don't follow Chevy… don't. He might be insane. His tweets consistently make no sense and always seem to be one sentence from the middle of a conversation, only he isn't talking to anyone. So, without further adieu, here are a few of Chevy's "unique observations."
@OfficialChevy Eagles sore with eagles… Turkeys get left behind
@OfficialChevy So when I come back… I'm havin comeback parties.. Need to set something up asap.. Hmu… Who trying pull up with me tho…
I'm not sure what is worse: the bad grammar, the sloppy spelling or the nonsensical ramblings. Also, if eagles "sore" and turkeys get left behind, what happens to chickens, parrots and penguins?