Angels training camp is set to break in just a few days but many a roster mystery remains unsolved. With a recent spat of injuries and the sudden creation of some new roster spots and thus some thinned out depth, the Halos have some tough decisions to make before they head back to Anaheim. Whatever shall they do? Don't worry, I'm here to crack the case.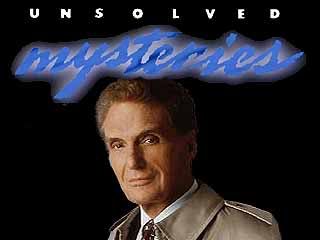 Wait, is Robert Stack even still alive? Dammit! Now we'll never solve these mysteries.

Mystery #1: Who gets the final (but possibly temporary) spot on the bench?
With Joel Pineiro likely to start the season on the DL, the Halos have the rare luxury of carrying seven relievers and fourteen position players. Too bad for them that they have almost no position players left on their roster. Andrew Romine? Please, the last thing the Halos need on the bench is another light-hitting (and that is a generous assessment of Romine's offensive prowess) middle infielder. Hank Conger? Lord only kows that Mike Scioscia loves to have that third catcher, but how is Hank supposed to develop when he is just going to spend a vast majority of his time sitting on the bench chowing down on sunflower seeds? Maybe they could hope someone like Jeremy Hermida gets cut loose by their team and then scoop that guy up? But what would the point of that be since the guy would probably have to be waived as soon as Kendrys Morales gets healthy?

Who done it? The most sensical thing to do would be to keep Hank Conger around and treat those first two weeks of the season like an extended catching boot camp for him, but my gut tells me the Angels will go off the board and instead decide to keep an eighth reliever, either Cassevah or Wolvi-riguez.
Mystery #2: What is to be done with Brandon Wood?
The game of musical chairs on the Angel bench isn't over yet. It may not be as soon as we like, but Kendrys Morales is going to rejoin the team at some point. When that happens, the Halos will have to make a decision on Brandon Wood. Do they keep him or send him packing? If he is kept, he is basically the third-stringer at every infield position, which seems like a luxury the Angels may not want to pay for since the cost would be either demoting Mark Trumbo (not likely), trading Alberto Callaspo (difficult, not implausible) or jettison a reliever (likely, but not terribly palatable).
Who done it? Morales' absence is like the gift that keeps on giving for Woody. It gave him enough at-bats this spring to finally heat up and show some signs of that long-lost potential and it should also give him enough time in the regular season to prove he is worth hanging on to. How will they keep him? I'm guessing that either Jason Bulger pitches himself out of a job or the Halos decide to trade away Alberto Callaspo and hope that Maicer Izturis can stay healthy enough that they can survive with Wood as his primary backup and the slick-fielding Romine as their minor league insurance policy. It may threaten the team's overall depth if Wood falls apart again, but I don't get the sense that this organization is ready to give up on the former crown jewel of their farm system just so they can keep a Maicer Izturis clone instead.
Mystery #3: What will happen in the bullpen once Scott Downs returns?
Much like the clock is ticking for Brandon Wood with the return of Kendrys Morales, the clock is ticking for almost everyone in the Angel bullpen once Scott Downs returns from his broken toe. Jason Bulger and Rich Thompson are both just hoping to pich well enough to remain employed while Michael Kohn and Jordan Walden will use the next month to prove that their potential should prevent them from being sent back down to the minors so that some of the older guys don't have to be waived. And what about the closer spot? Fernando Rodney seems like he has that job all to himself… for now. But what about when lefty-killer Downs is added back into the mix? Can Fraudney stave him off?
Who done it? No big twist ending here, Bulger is already on the chopping block thanks to a spotty spring performance and there is little reason for the Angels to demote a red-hot Kohn or waive a younger, more reliable Thompson so that they can hold on to Bulger knowing that his shoulder could crumble at any given instant. As for Rodney's grasp on the closer's gig, it is probably stronger than we think. I fully believe Scioscia had every intention of splitting the job between Rodney and Downs, but if Downs misses a month of action, he's going to need some time to get back into top form, much less push Fraudney for save opportunities. Yeah, I don't like it either.
Mystery #4: Can Scott Kazmir be saved?
I said more than enough about what I think of Scott Kazmir yesterday. Rather than spill more bile about his prospects for a bounceback season, let's focus on what we know. He is working hard to improve. He is still young. He is… the Angels only real option in the rotation. Trevor Bell is hurting and possibly not any better than Kaz. Takahashi is best suited for relief and likely stuck there until Downs returns. Matt Palmer is a chubby flash in the pan who has looked like exactly that all spring long.
Who done it? I already stated that my prediction for Kazmir is that he'll self-destruct and be DFA'd by the end of May and I am going to stick to my guns. But how do they fill his rotation spot? If Kazmir can hold out long enough, Bell should be able to recover, but I think there is more of a plan than that. We already talked about Wood and how there is a good chance he or Callaspo could be traded to clear space for Morales. Neither has a ton of value, but that doesn't mean they can't bring something back, like maybe a Triple-A pitcher who has fifth starter potential in the majors. Let's not forget that Callaspo was acquired for Sean O'Sullivan and a solid prospect. Even after his poor 2010 season, he still should be able to bring back at least some of O'Sullivan's caliber, no? Yes, the puzzle pieces are starting to fall into place aren't they.
Mystery #5: How will Scioscia cobble together the lineup?
The Halos had batting order questions even before Kendrys landed on the DL, now those questions have only multiplied. Will Abreu still hit second? If so, who hits fifth? If he hits third, who hits second? Is Scioscia going to give Trumbo the Napoli Treatment and keep his mega-power bat stuck in the bottom third of the order? Can the Angels DH for Mathis instead of the pitcher? Inquiring minds want to know.
Who done it? I have no idea. File this mystery in the same folder as Bigfoot and the Loch Ness Monster because not even the combined mental acumen of Stephen Hawking, Mark Zuckerberg and Ken Jennings can understand the machinations of The Sosh when he fills out his lineup card.