What If Wednesday is back and I think this week's topic all too obvious. As the baseball world waits for Spring Training to begin, there is nothing better to do than focus on the idle speculation of where Michael Young might land once the divorce between he and the Rangers is finalized. Since the Halos are at the center of the trade rumors, it seems like a worthwhile exercise to imagine what it would be like if Michael Young did actually get traded to the Angels.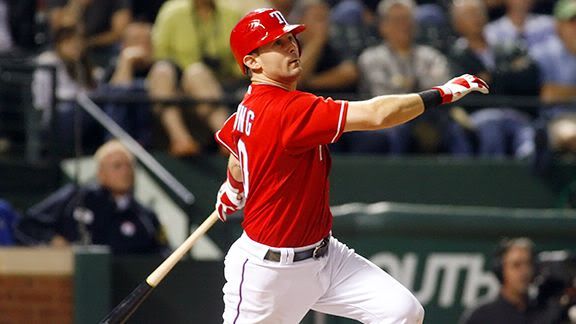 You have to admit, Young looks pretty good in red.

What if the Angels and Rangers actually did find a way to come to terms on an agreeable intra-division swap? What would it cost the Angels? Would they have to pay a premium to convince Texas to deal Young within the division or will Texas be backed into a corner due to the lack of suitors?
What if all it took to get Young was Kazmir and Callaspo or Rodney? Wouldn't you do that in heartbeat, even if you don't think Young is all that good?
What if the Angels ended up giving real useful players for him instead?
What if Young came to Anaheim but brought all of his $48 million remaning contract with him? Could the Angels really stomach that kind of salary addition since their 2011 payroll is already maxed out? What about maintaining financial flexibility over the next few years?
What if Young makes it his personal mission to stick it to the Rangers for screwing him over like he thinks they did? Could that be the kind of motivation he needs to reinvigorate his career or is he simply too old to put up big numbers again?
What if the move from hitter-friendly Arlington to pitcher-friendly Anaheim reveals Young to be in steeper decline than anyone realized?
What if Young takes over full-time at third base? Is his defense going to be a problem? What would the Angels then do with the like of Maicer Izturis, Alberto Callaspo and Brandon Wood? At least one of them has to go, right?
What if Young were installed as the Angels' leadoff hitter? Will he be able to hit for a good enough average to raise his OBP to an acceptable level? Can he run well enough for Scioscia's liking?
What if the Rangers fall apart with the loss of their clubhouse leader? Can that lockerroom full of young, brash personalities keep their heads on straight without the steady guiding presence of the veteran Young?
What if Young really only has one more good season left in him but it is good enough to push the Angels back into the post-season? Would that be enough to justify the Angels making such a steep investment?
What if the whole thing blows up in the Angels' face? Could they recover if they take on too much money for a subpar player while providing an ascending divisional rival with a personnel asset as well as increased financial flexibility?