OK, I'm going to try something new. I've been looking to add a special feature for each day of the week and thus far haven't come up with anything for Wednesday, until now. I'm calling this "What If Wednesday" a weekly piece in which I will simply throw out a hypothetical for everyone to consider. No analysis or pontificating on my part, just thinking out loud and hopefully generating some discussion. Let's see how it goes, shall we?
This week's What If is all about Brandon Wood and what might happen if, and I almost can't believe I'm saying this, he winds up having a strong Spring Training.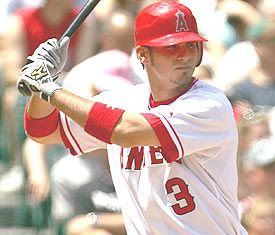 Wood actually good? Is that even possible?

Like it or not, Brandon Wood is going to be in training camp with the Angels this year and he is probably going to get a fair amount of playing time at third base, even if he is third in line for the starting job. But could he move up the depth chart?
What if he got his confidence back after playing in the Arizona Fall League?
What if fixed his swing working with a hitting coach not named MIckey Hatcher this winter (as has been rumored)?
What if the lack of pressure to perform allows him to finally loosen up and perform?
What if he has a monster spring and the Angels can't justify keeping him out of the lineup since their alternatives aren't exactly knocking anyone's socks off?
What if he somehow wins the starting job, would the fans embrace him or continue to ride him everytime he strikes out?
What if he earns playing time in spring but falls on his face when the games start to count? How long would the Angels stay with him and would he ever recover from another massive failure?
What if he has an impressive spring but Mike Scioscia still ignores him because he doesn't trust him? Would it even be worth keeping him around? Should they just trade him instead, while he might have a very temporary boost in value?