With the Angels' 2011 Cactus League schedule now one-third complete, it is time to check in with the club and see what we can learn from the early spring action, even if we do so knowing full well that drawing conclusions from Spring Training games is usually a fool's errand.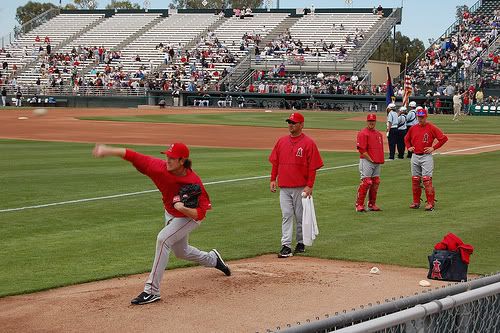 Lesson 1 – Spring Training always features a bunch of players standing around doing nothing in front of a half-filled stadium… just like a regular season Pirates game.

Let's start with the obvious, Mark Trumbo. He's pounding the hell out of the ball and literally everyone is taking note of it. This shouldn't be a huge surprise though as everyone knew Trumbo has big-time power, but this is the first sign that he has shown of that power being big league-ready. Heck, even I have gone from one of his biggest detractors to one of his biggest proponents (though I have the feeling I should know better than to be swayed by Cactus League numbers). More importantly, Trumbo clearly has Mike Scioscia's eye given that Trumbo has the most at-bats out of anyone on the Angel roster (and possibly the Cactus League). Sosh is testing Trumbo and he is passing with flying colors so far. But before we go and get too excited, let's all wait and see if Mark comes back down to earth as the spring marches on and the non-roster invitee ptichers get sent packing for the minors and the real pitchers start rounding into regular season form.
We wll probably have to wait until mid-season to restart the Free Hank Conger campaign. Hank has been slowed by a sore forearm and it has affected both his performance and his availability. Enjoy Salt Lake, Hank. We'll all be thinking of you every time we see Jeff Mathis hit a weak grounder back to the pitcher.
When Scott Kazmir takes the mound, be afraid, be very, very afraid. He showed some signs of life in his first two starts of the spring, but his third start was a train-wreck. Clearly we aren't out of the woods yet with good ol' Kaz. But, and I can't believe I'm typing this, let's not overreact too much one way or the other. Out of all the pitchers in Angel training camp, Scott has the most stuff to work on during his starts, so things could get rough as he tries to iron out the kinks in his conditioning, mechanics, mental approach and pitch repertoire. Make no mistake though, the clock is ticking for Kazmir to turn it around, but let's just wait until the buzzer sounds before passing final judgment.
It seems that nobody actually wants to be the Angels' closer, a turn of events that I certainly didn't anticipate. Fernando Rodney has looked bad. Kevin Jepsen has hit a speed bump. Jordan Walden needs to start missing more bats. Really, Scott Downs is the only potential closer making a strong early impression. I keep hoping that someone, preferably someone not named Fernando Rodney, will step up and take the closer's job by the horns, but so far, not so much.
The closer role is definitely murky, but so is the competition for the last two (or maybe one) spots in the Halo bullpen, but for the exact opposite reasons. Jason Bulger, Rich Thompson and Michael Kohn have all looked good so far this spring. Even Matt Palmer and Francisco Rodriguez v2.0 have looked fairly decent. This is really only a problem for Mike Scioscia, who has to make the roster decisions, but it is a good long-term problem to have since it means the Angels have plenty of relief depth to call upon should injury or poor performance strike.
It has to be said, even if it doesn't mean much right now, but Mike Trout definitely doesn't seem over-matched in Cactus League play. The Angels are right not to consider calling him up until 2012, but the fact that he held his own in his 11 spring ABs is at least one small indicator that when the calendar turns to 2012, Trout will be more than ready for the show.
Trevor Reckling, go directly to Double-A. Do not pass Go. Do not collect $200. Do not reappear on top Angel prospect list until you figure out what the hell went wrong with you.
End the speculation now because it seems pretty obvious who is going to be batting leadoff when Maicer Izturis isn't, that would be one Erick Aybar. Even though his 2010 tenure at the top of the order was a decided failure, Erick Aybar has already been given multiple starts at the leadoff spot this spring (cue ominous music). In fact, Aybar and Izturis are the only two Angel regulars who have gotten starts in the leadoff spot, so there really isn't even a competition at this point. I don't know that I agree with this early decision on such an important role, but I honestly don't see any other obvious alternatives that merit extensive exploration (other than Abreu batting leadoff which believe Scioscia views as a last resort).
And now the elephant in the room. Kendrys (yep, I'm going with that) Morales and the seemingly never-ending saga of his broken leg and his fantastic suspension treadmill. Who would have ever thought so much would hang (pun intended) on a guy running in place while wearing a suspension vest?
It is worth noting that Hisanori Takahashi went two innings in his second spring appearance. This is a strong indicator that Mike Scioscia has little intention of using Takahashi as a LOOGY, which isn't too surprising since that has seldom been his style. What it also suggests is that the Halos definitely want Hisanori to be their long man and probably want to keep stretching him out so that he can slot into the rotation if, oh, I don't know, Scott Kazmir turns out to be really terrible again, hypothetically speaking.