Hey, this contract extension thing is pretty cool, isn't it? I can't get enough of all these good vibes that Weaver's new five-year deal has created. In fact, I think that extension was such a great, fun idea that the Angels ought to try and do it again with another player!
The only question is who, if anyone, should the Angel front office set their sights on now that they've locked up the big prize in Weaver?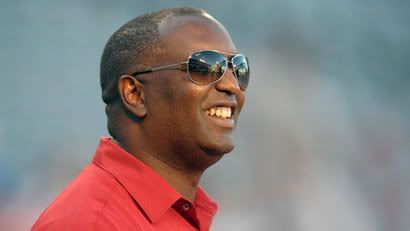 For the first time in a long time, Reagins actually has reason to smile.
So what makes a great extension candidate? First and foremost, there must be some kind of sense of urgency. As much as I'd like to see the Angels lock up Dan Haren for a few more years, there is no rush to get a deal done since they have him under contract through 2013. Second, there must be a give and take for both sides. Like in the Weaver deal, Jered gave the Angels a hometown discount in exchange for a richer payday in 2012 than he would've got in arbitration plus the comfort of that shiny full no-trade clause over the life of the contract. Finally, a player's performance has to actually merit an extension (sorry, Jeff Mathis). With all that in mind, let's consider the top candidates on the Angel roster:
Howie Kendrick – Like Weaver, he hits free agency after 2012. Like Weaver, he is having a career year, but not on nearly the same level. Kendrick has fallen off some since his torrid All-Star first half, but he has likely done enough to convince the baseball world that he is at least going to be an above average second baseman in this league for years to come. But given that he struggled so much in 2009 that he got demoted, Howie might be more inclined than most to sign a long-term extension with a hometown discount, just in case he has a relapse in 2012 before he hits the open market. From the Angels' perspective, I'm not so sure they should be chomping at the bit to secure Kendrick's services for the next several years. Kendrick is good, but he isn't great. Provided he doesn't blow up in 2012, Kendrick figures to remain pretty signable once he hits free agency. With Jean Segura a candidate to be ready to take over for Howie in 2013, the Angels should be well situated in terms of a back-up plan if Kendrick ends up getting away.
Erick Aybar – A month ago, I would'nt have considered Aybar an extension candidate since his star appeared to be on the rise to a point where he would want to keep himself freed up to build even more value next season. But now that Aybar's season has gone off the rails this month, he should be gravely concerned about his future. Back in 2009, Aybar was considered a franchise cornerstone, but now he might not even be a starting caliber shortstop on most teams. The potential is still there, but the consistency remains missing in action. This is a golden opportunity for the Angels to ink Aybar to an Izturis-like three-year pact, for around maybe $12 million. That way, Aybar gets guaranteed money that he might never see if he finishes next season with another sub-.300 OBP and the Angels get a potentially bargain-priced starting shortstop should Aybar finally figure out how to play up to his talent level for an entire season. At worst, Aybar becomes an overpaid, but still pretty useful, utility infielder.
Vernon Wells – Ha! Just kidding. I don't know if this one makes me laugh or makes me cry.
Kendrys Morales – This one isn't a joke, I swear. Think about it. Nobody knows if Morales will ever be the same, so he is at real risk of falling off the face of the earth if he doesn't come back strong in 2012. And thanks to his season-long injury, he won't be getting any real kind of raise over his current $2,975,000 either. However, if he wants to be sure that he is set for life, something he should be very concerned about given how long his recovery is taking, Kendrys might be amenable to a three-year extension that guarantees him something like $21 million over the life of the deal. That would be a huge bargain for the Angels if Kendrys Morales regains his MVP-caliber form in 2012 or even 2013, but it also exposes them to the risk of paying $21 million to a guy who might never be a full-time player again. With Boras involved, I doubt that he'd recommend such a course of action since Kendrys could make twice that amount over the same period of time if he bounces back strong next season. I'm not sure I like the idea for the Halos either, but I also haven't seen the medical reports like they have.
Mike Trout – There is a bit of trend amongst clubs to hand six or seven-year pacts to potential superstars during their rookie season. The Rays did it with Evan Longoria and it has worked out pretty well. The star player gets to make a lot more money in their first six seasons in the majors than they would have, and they get it all guaranteed. Meanwhile, the team gets to buy out a year or two of free agency for a player they believe could eventually make franchise-player money. This is a tact more well-suited for small-market teams that need the cost certainty, but the Angels might want to give the strategy a try since Trout has the potential to be such a special talent who seems to be at least guaranteed of being a quality regular if not a superstar.