It is a mystery that confuses even the most ardent of Angel fans: why can't the Halos win at home?
At 15-20 at home, the Angels have some real soul-searching to do to solve their home-related issues and they best do it soon since their next 13 games are all in the friendly confines of Angel Stadium. Of course, you can't solve a problem lest you know what is causing it. So, what do you think is the root of the Angels' inability to play well at home?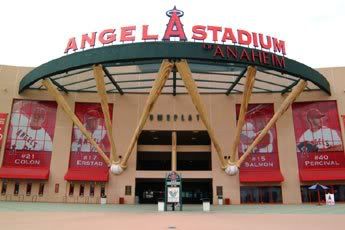 Time to vote!
Bad luck and bad timing so far. The Angels just have had some tough timing and luck at home thus far, but things will even out over the course of the season.
Poor hitting. The Angels' biggest weakness is their lineup and that only gets magnified in the pitcher-friendly confines of the Big A.
Tough schedule. The Angels have only played 13 hames at home against teams currently under .500 (KC, Oak and CWS).
They just aren't good. Maybe the Angels are playing to their level at home but overachieving on the road rather than the other way around?
To place your vote, simply find the Poll of the Week in the gray sidebar to the right.