We all know about the trade and that contract, but what about Vernon Wells the player? Can he cut through all of the outside BS surrounding his acquisition and help make the Angels better, or will his career of inconsistency rear its ugly head and make the organization look even worse for having acquired him?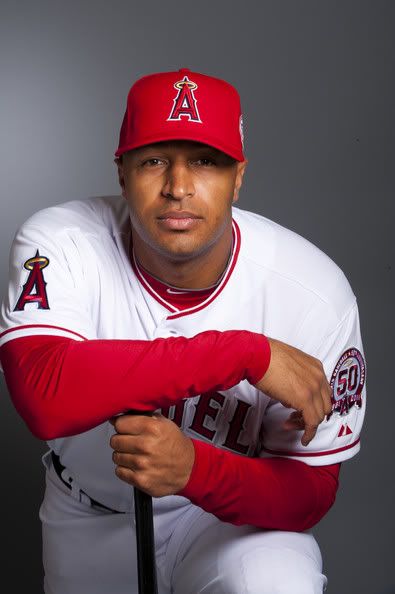 2010 Stats: 590 AB, .273 AVG, .331 OBP, .515 SLG, 79 R, 31 HR, 88 RBI, 6 SB
2011 ZiPS Projections: 565 AB, .260 AVG, .313 OBP, .432 SLG, 70 R, 19 HR, 74 RBI, 9 SB
2011 Bill James Projections: 587 AB, .283 AVG, .338 OBP, .480 SLG, 85 R, 25 HR, 89 RBI, 7 SB
2011 Marcel Projections: 542 AB, .266 AVG, .320 OBP, .445 SLG, 71 R, 20 HR, 71 RBI, 9 SB
2011 MWaH Projections*: 550 AB, .272 AVG, .327 OBP, .487 SLG, 81 R, 27 HR, 95 RBI, 13 SB
*The MWaH projections are simply my best guess based off my own personal opinion and research
2010 in Review: Playing for the Toronto Blue Jays, Vernon Wells' career had a major resurgence in 2010. After three consecutive down seasons, something he blames on a troublesome wrist problem, Wells finally got healthy and put up some very impressive numbers, earning him his third career All-Star berth, his first since 2006. With 31 home runs and a .515 SLG, his bounceback season probably would've gotten more attention had he not been so wildly overshadowed by the amazing season of his teammate, Jose Bautista. Even then, Wells' fine season is already an afterthought in the wake of his surprising trade to Anaheim in exchange for Mike Napoli and Juan Rivera. But at least we can all take solace (or umbrage) in the fact that the much-maligned trade in question never would have come to pass had he not rebounded in such a big way last season. Thanks a lot, Vernon (sarcasm very much intended).
Three Lingering Questions for 2011:
Is Wells really all the way back to being an All-Star claiber player? Given Wells' highly erratic career, I'm sure a big reason nobody made a big stink about his 2010 rejuvenation is because many expect him to dejuvenate this year. At 31, Wells is past his prime, but still young enough to put together a few more years of quality production. A big part of that will be whether or not Wells is really healthy, which he says he is, but already he is having hamstring problems in the pre-season, but at least it isn't his wrist.
Can Vernon improve the defense too? The main reason Wells was imported was to add some thump to the middle of the order, but his potential defensive contributions are a factor too. At one time, Wells was one of the top center fielders in the game, winning three straight Gold Gloves (if you are into that sort of thing). However, his UZR ratings have done a nosedive the last few years and he has turned into a liability in center. Good thing he'll be playing left for the Halos, or at least we hope. A move to a less demanding position and getting off the artificial turf in Toronto should hopefully make Vernon at least an above average defensive player again. Or maybe he'll just prove that his loss of range the last few years is actually a bigger problem than we all thought.
Will we ever be able to think of Vernon without thinking about his contract? I'd like to say yes, but I really don't see that happening. There is no way around it, his contract is miserable and even an MVP-type season probably won't make anyone forget about just how horribly overpaid he is and how long he will continue to be overpaid. That really isn't a problem for this year, but for future years, it definitely is. What I do worry about though is fans turning on Wells if he struggles out of the gate. By all accounts, Vernon is basically the second-coming of Torii Hunter in the locker room, but fans aren't going to focus on what a great dude he is, they'll just dog him for his ridiculous payroll figure, and that would be a shame because it could submarine his Angel tenure before it even really begins.
What to Expect in 2011: If Wells says that his struggles were related to his bad wrist and that said wrist got fixed before 2010, then I believe him. I'm not sure if I am doing that based on the empirical evidence or simply because I want to, but either way, that is what I am going to do.
In all seriousness, I don't think this is blind optimism on my part. Wells seems legitimately invigorated by escaping Toronto and to play for a (semi-) contender. Nor do I think it can be underestimated how good it will be for him to play home games on real grass and not joint-crunching turf, not to mention running less in left field. Hopefully that will keep him healthier and thus more capable of being a consistent producer. Of course, the change in scenery can have a negative affect on him as well.
With as much media scrutiny as his trade has gotten, it would be silly to think that Vernon hasn't let all that bile get under his skin a little bit. The danger with that is Wells potentially trying too hard to prove all the naysayers wrong and thus taking himself out of a comfort zone. For that reason, I think Wells will fall a bit short of replicating his fine 2010 season. I very much see Wells pressing for the first month or so of the season, trying to do too much at the plate. Eventually he should settle in though and start putting up the kind of numbers the Angels acquired him for.