This might be my favorite post of the off-season to write every year. We can preview the team all we want, but nothing is more fun than boiling down the season so that it really depends on one player. This year was definitely one of the toughest yet, but after much consternation, I think I finally figured out the answer. The most important Angel of 2011 Is… Dan Haren. Allow me to explain.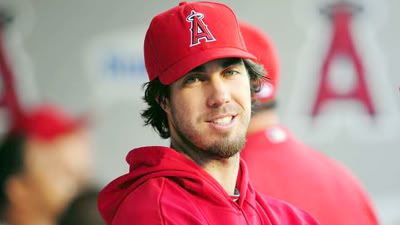 Bet you thought I was going to say Morales, right?
I know what your thinking, I'm just picking Dan Haren instead of Kendrys Morales solely for the sake of being different. Well, you're wrong (mostly).
Let me put it this way, how good would the Angel lineup be if Morales either missed the entire season or was only half the player he previously was? Below average (if you're being generous)? Bad (if you're being realistic)? Painfully awful (if you're being pessimistic). I don't think anyone would argue with any of those answers. A best case scenario though would be an average offense, assuming that Mark Trumbo proves to be an adequate fill-in for Kendrys.
Now, let me ask you how good the offense would be if Morales returns to MVP-caliber form? A middle of the pack lineup? Maybe a little more than that, at best, right? Well, unless Jeff Mathis finally makes Lyle Spencer look smart and really does learn how to hit, but I digress. The bottom line is that Morales can be very, very good, but he isn't ever going to be good enough to make this lineup a potent one all by himself. Obviously the Angels would be better off with an above average offense (which is probably their ceiling), but no matter how you look at it, the bats are not going to be leading the Angels to another division crown this season.
If the Halos are going to shock the baseball community and reclaim the AL West, it is going to be on the strength of their vaunted rotation, one that some have said could potentially be the best rotation in baseball.
The key word, however, is "potentially."
As good as the starting pitchers could be this season, there are a whole lot of questions that must be answered to make that happen. For Joel Pineiro, the question mark is his health. For Ervin Santana, the question mark is his track record of inconsistency. For Scott Kazmir, well, he is pretty much a living breathing question mark at this point. I'd like to say that I know how all of those questions will be answered, but I don't. What I do know is that the relative import of each problem can be severely mitigated by one thing: a dominant top of the rotation, and that is only going to happen if the Halos have not one, but two aces.
With Jered Weaver, the Angels are already halfway there, even if he does regress a bit from his stellar 2010 campaign. As for the other half, the only real man for the job is Dan Haren, but he has some real questions of his own that need to be addressed first.
Oh, right. Forgot about that didn't you? Sure, Haren was lights out after arriving in Anaheim, posting that spectacular 2.42 ERA as an Angel, but his 4.60 ERA in Arizona prior to the trade was rather ugly. Those early struggles may not have been a half season anomaly either. For years, scouts have been questioning how Haren can keep on putting up ace-like numbers without having ace-like stuff. So can we really be so sure that Haren, who already battled a case of so-called "dead arm" this spring, is going to dominate again in 2011?
Now, imagine if you will a world in which Haren is not one of the best #2 starters in baseball but rather a more pedestrian middle-of-the-rotation guy. An ERA around 4.00, a declining strikeout rate, too often victimized by the long ball and struggling to routinely go deep into games like he used to. Even if Santana, Pineiro and… whoever ends up being the fifth starter perform around or slightly above expectations, if Haren is anything less than an All-Star caliber pitcher, the Halo rotation looks less like one of the league's best and more like, well, the rotation of a team that is probably going to finish third in their division.
Nobody goes to the playoffs with floundering offense and a "just OK" rotation and on the off chance that they do, they almost certainly don't make any post-season noise. Now a weakish lineup and a dominant rotation, that is a team that could do some real damage. Don't believe me? Just ask the 2010 San Francisco Giants. And isn't that just the perfect comparison too? Weaver is the Angel version of Lincecum, both reliable aces. Santana is akin to Jonathan Sanchez, both guys with immense talent but immense consistency issues. Pineiro is somewhat analogous to Bumgarner in that he is good but not spectacular and seldom dominant (settle down Giant fans, I know Bumgarner has a lot of upside still). Kazmir and Zito are very much birds of a feather for obvious, migraine-inducing reasons. Which brings us to Haren and Matt Cain. Like Haren, Cain hasn't always been a top-notch starter, but he was last year and with the Giants making the playoffs by the narrowest of margins, one has to think San Francisco could easily have been home watching the playoffs on TV rather than actively participating had Cain turned in a season more in line with a #3 starter. Having those two aces allowed the Giants to suffer from their oft-swooning offense and the slumps of their lesser starting pitchers without their season going under and allowed the Giants to dominate when the offense was clicking and the rest of the rotation was on their game.
That is why I think the season hinges on Haren. He is our second ace, our Matt Cain, our outside shot at becoming a World Series contender. I'll be the first to admit that this isn't the model I would construct a team on if I was aiming to win a championship, but the Angels are what they are and their best chance at post-season glory is on the strength of their rotation, so it needs to be as strong as possible, starting with Haren.