A bi-weekly series on which prospects are making the biggest jumps up Angel Prospect Lists.
Kaleb Cowart/Chevy Clarke – I'm grouping these two together because they've garnered the unfortunate distinction of two players with high expectations that spent a year too long in Rookie Ball without prolonged success. So far in Cedar Rapids though, they've been the two best players on the field. Both are blessed with gobs of God-given talent and any indication that they might realize such potential can send fans' hearts fluttering away. Right now, they look like a couple of first rounder's, but let's see if they can sustain it.
Kole Calhoun – He was unbelievably good in Spring Training, and it wasn't the sort of flash in the pan good that comes once a year. His swing is short and he drives the ball with authority from the left side. He doesn't go chasing pitches out of the zone and plays capably well at all three outfield spots. Despite physical tools that don't jump off the charts, everything I've observed tells me he's going to be a major league regular. It also appears he won't need much time in the minors. The Angels previous front office regime was unwisely conservative when it came to promoting players. So Calhoun was forced to stay in Advanced A Ball even though he ripped the pitching to shreds. The new front office didn't believe AA would be a necessary step and moved Calhoun to AAA, where he's more than held his own so far.
Austin Wood – Remember when we here at MWAH thought he was one of those high risk/high reward guys? Turns out that reward may be higher than previously imagined and may come sooner rather than later. Wood was drafted with the reputation that his results couldn't match his first round talent, meaning he needed a lot of work. Some minor adjustments by the Halos minor league pitching coaches and Austin Wood has become unhittable. His fastball is sitting in the high 90's, he's throwing his plus change for a strike and now suddenly his slider is "off the charts" good. Through 10 innings he has 15 strikeouts one walk and has allowed one run on four hits. On top of all that, his performance looks like it could be sustained long term. His high arm slot and easy motion put very little stress on the shoulder and elbow and he's locating pitches as well. When he misses, it's due to release point and he misses high. However if you're going to miss high, it's best to do so at 98 mph, that way hitters have a hard time catching up with it. There's no doubt hitters in the high minors and majors wouldn't chase such pitches, but for now, there doesn't seem to be anything standing in the way of Austin Wood dominating A-ball.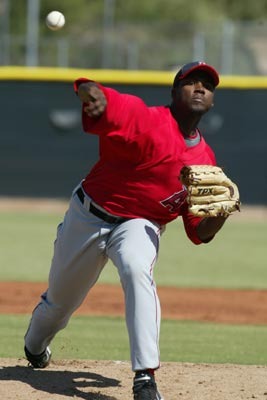 Ariel Peña – After an impressive Spring, Pena is beginning to garner more and more media attention. He specifically caught the eye of ESPN minor league guru Keith Law, who noted Pena's fastball was sitting in the mid-90's with ease and his slider looked like another plus pitch. Because of his command issues, most project Pena into the pen, where he'd immediately be viewed as a closer. However, Pena's stayed around the zone all spring and was impressive in his first start in AA (5 IP 1 ER 2 BB 5 K). His mechanics are clean enough and he has enough stamina to remain in the rotation long term should that be the Angels need.
Donn Roach – Roach didn't garner very much hype after his first season of pro ball. He always seemed like the sort of pitcher that was better off in the rotation rather than the bullpen, but was never a starter for whatever reason. So after his first season in the minors, he was still known as Bryce Harper's battery mate. The Angels wisely moved him into the rotation and the results have been impressive (13 IP 0.56 ERA 10 K).
Eswarlin Jimenez – Left off the MWAH Top 30 Prospect Rankings, this southpaw came over from the Dominican Republic and didn't spend any time in Rookie Ball. This isn't an unheard of step, but it is rare. His fastball sits around 90 mph and he offers a plus change and curve. Right now he's being used in relief until his arm is stretched out. Within the next year or two he'll be moved into the rotation and should take his rightful spot as the next great Latin American arm in the Angels system (his forefathers being Ervin Santana, Francisco Rodriguez, Ariel Pena and Fabio Martinez).