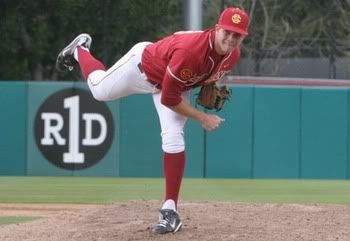 Austin Wood (#30 prospect on the MWAH/LAAI Top Prospect List) looks like he's going to be jumping up the prospect lists pretty soon.  His fastball was sitting 97-98, his delivery is extremely smooth, it's an EFFORTLESS 97-98.  His slider is absolutely lethal, reminds me a lot of Jepsen's.  He loses his release point often though, and when that happens he's dangerously erratic.  His fastball tends to miss high more often than not.  His development reminds me a bit of Garrett Richards.  Both went to big time college programs (Oklahoma and USC), both were relievers in college that put up awful numbers.  Both are big-bodied pitchers with very good fastballs and both tend to miss up.  Wood's fastball and slider are better than Richards but Richards has a very good curve and change.  Should be interesting to see how he does this season, there's no doubt he has "front of the rotation" type of stuff.  Changeup looks to be in the mid-80's and dives in and down on right handers.  Not a great pitch, but he's not using it much either.
Speaking of Garrett Richards (#3 prospect on MWAH/LAAI Top Prospect List) he turned in a strong performance (7IP 2ER 7K).  His fastball showed good enough movement despite the cold air.  He had no problem throwing his slider and curve for a strike either, which is generally a problem when it's cold out because you can't feel your fingers.  His fastball reportedly sat 95-96 on the Tacoma radar gun which is good news because Richard generally sits 94-95 on a normal night.  His mechanics looked better than they ever have, smooth, repeatable.  I really think Kevin Goldstein completely under-estimated this guy.  He has #2/#3 starter written all over him.  Plus fastball, plus slider, plus curve and a quality change.
Not sure if anyone was expecting anything different, but Mike Trout (#1 on MWAH/LAAI) looked like the best player on the field in his first AAA game.  He's still recovering from the illness and is still gaining the 15-20 pounds he lost, so understandably his first step wasn't as explosive as we're used to, having said that, he was still considerably faster than anyone else on the field.  His timing is looking pretty good as he drove three singles up the middle and ripped another liner that the 3B grabbed.  Honestly, Vernon Wells better show us something better than what he did this Spring, because as it stands right now, Mike Trout may be the first or second best outfielder on the team.
 

Kaleb Cowart (#8 on MWAH/LAAI Top Prospect List) is definitely zeroed in.  His swing his fluid, his load step isn't as high anymore and his hands are positioned lower, but it looks like he has just as much power if not more than last season.  Really a good athlete all-around, looked extremely good defensively at 3B, no doubt he'll remain there.  Definitely has the body of a future middle of the order hitter, which is what he's serving as in Cedar Rapids.
Frazier Hall (unranked) is another name to look out for.  Beautiful left handed swing, completely fluid with a slight uppercut to it.  Has a good eye at the plate which is more common among collegiate-grown players.  He's older than most of the competition in the league but clearly looks like he's going to be a fine hitter.  The Midwest League is known for stifling offensive minded players but that shouldn't stop Hall.
Chevy Clarke (unranked) is fast, really really fast.  He stole second base standing up.  He had a good jump, but not one so good that you'd expect him not to have to slide.  Even if the throw was perfect he quite literally would have come to stop standing on the base before the ball got there.
Abel Baker (#28 on MWAH/LAAI Top Prospect List) looks very good defensively behind the plate.  He's got a pretty swing too, stays back and drives the ball where it's pitched.  With him and Jett Bandy down in the lower levels, it appears the Angels have quite a bit more catching depth than last season.