The Arizona Fall League season has commenced and now most baseball junkies are tuning into late night or early afternoon ESPN to watch the Latin American winter leagues. But what can we really take away from these offseason leagues? In truth, not a lot. Players can sink or swim for any number of reasons in the offseason. The most common, players can simply be too exhausted to compete at that stage. This famously happened to Mike Trout last year in the AFL where for the first time in his life, he posted rather pedestrian numbers. Scouts who before marveled at his athleticism, polish and intensity were quoted as saying "He simply looks tired". Judging by the other-worldly numbers he put up in 2012 in the major leagues, I'd say they were right.
But the one thing you can look for on both sides of the ball, the walks. The Arizona Fall League features the best and brightest of tomorrow's stars in meaningless games to work on some things. This is where the Angels sent Jean Segura to transition to shortstop and where they sent Brandon Wood to cut down on the K's. Most minor league prospects will tell you, the difference between lower minors and the majors are the breaking pitches. If a young hitter learns to make contact with these or to lay off of them, he's golden. If a young pitcher learns to mix speeds and throw the slider or curve for a strike, he's major league ready. So with that in mind, how have we done so far?
Offense
3B Kaleb Cowart (AFL) .200/.265 17 games 2 DB 1 HR 6 BB 16 K's. – The Angels top prospect looked tired according to scouts that saw him. Still, there were flashes of brilliance, like the show he put on at the Rising Stars Game. Cowart showed that his patience from low minors wasn't a fluke. Against advanced competition, he could still work the count and get on base. But he also struck out too much, which was expected given his first taste of elite pitching.
OF Randal Grichuk (AFL) .228/.297 16 games 1 DB 2 HR 2 SB 4 BB 18 K's. – Grichuk has always been a free swinger and that's what scares many prospect aficionados away from professing their love for him. This performance was expected, he struck out a lot, didn't walk enough. Grichuk has the power to develop into a very good player someday, but he's going to need to make more contact first.
C Carlos Ramirez (AFL) .250/.379 8 games 3 BB 3 K's. – Ramirez was used as a backup catcher for the Fall League. He was described as flashing plus defense and again showed that he has a great deal of patience and discipline at the plate. The only question is whether or not he'll hit enough to be an everyday catcher in the major leagues. The Fall League didn't help answer that question one way or another, but it proved what we already know, this kid is already an upgrade over Bobby Wilson/Jeff Mathis.
OF Travis Witherspoon (AFL) .219/.288 21 games 3 DB 1 triple 3 HR 6 SB 6 BB 28 K's. – Witherspoon may be one of the most "toolsy" prospects in all the minor leagues. This kid is an exceptional athlete. Hopefully, he'll turn into an exceptional ball player too. But the knock on him all along has been his propensity to swing and miss. While we are all impressed with his power, speed and defense, 28 strikeouts in only 21 games is scary and could prevent him from ever reaching the major leagues.
OF Kole Calhoun (DWL).236/.337 21 games 1 DB 1 triple 3 HR 3 SB 11 BB 18 K's. – Again, this isn't telling us anything we don't already know about Calhoun. He's good at walking himself onto base, he's got power, speed and good defense as well. He's going to be a major leaguer very soon and could range anywhere from being an everyday top of the order hitter to a steady 4th OF and pinch runner/lefty bat off the bench.
3B Luis Jimenez (DWL) .259/.333 19 games 3 DB 4 BB 10 K's. – "Lucho" has been a beast in the winter leagues just about every year. You really see him in his element during these leagues. This year could be different though. The Angels already know he can swing the bat and hit the ball. He went down with the specific directive of taking more pitches and working a base on balls. So no one cares what his BA is or how many HR's he drives. No, they just want to see an improved K/BB ratio. So far, there's been some small progress. Lucho clearly isn't going to work a lot of walks over night, but he's also not swinging and missing a whole lot either. If he can develop this skill, I'd expect him to begin platooning with Alberto Callaspo at 3B sometime in 2013.
Pitching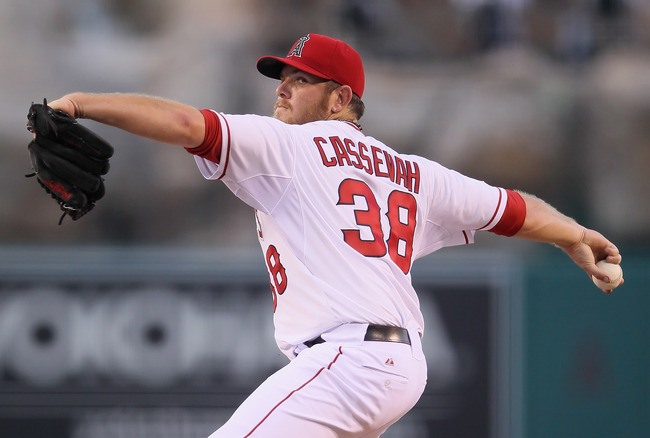 Bobby Cassevah (AFL) 6 starts 23 IP 8 BB 18 K's 3.13 ERA – Perhaps the biggest and least talked about movement this offseason has been Cassevah's transition to starter. The sinker baller never had the stuff to truly succeed as a reliever. In fact I'm shocked the Angels decided to make the switch this late in his development. But true to form, Cassevah appears to be considerably better suited for starting. He kept his WHIP relatively low, didn't put a lot of runners on base and didn't give up a lot of runs. You heard it here first folks, it's possible the Angels could have just unearthed a dependable back end starter in similar fashion to Shaun Marcum or Joe Blanton. Given that Cassevah is already in AAA, it's possible he of all people could be the answer to the Angels depth issues in the rotation. This is actually quite an exciting development.
Matt Shoemaker (VWL) 7 starts 33 IP 8 BB 25 K's 3.21 ERA – Shoemaker made a handful of starts in Venezuela and has already returned home for the remainder of the Winter. He had a rough first year in AAA Salt Lake. Pitching in a less hostile environment seemed to fit him just fine. One thing you'll always be able to say about Shoe, he makes his opponents earn their runs. He doesn't put a lot of runners on base.
Jarrett Grube (VWL) 6 starts 22 IP 13 BB 27 K's 2.38 ERA – The Angels picked this 30 year old up as a minor league free agent late last season. When he arrived at AAA Salt Lake (possibly the worst environment on Earth for a pitcher) not a lot was expected. Grube ended up posting a 2.98 ERA across 7 starts. I'm not saying he's the next Ryan Vogelsong, but the Vogelsongs and Jerome Williams' of the world had to start their comeback somewhere. Oddly enough, both started theirs in AAA Salt Lake and Grube potentially could too.
Orangel Arenas (VWL) 3 starts 14 IP 1 BB 11 K's 3.07 ERA – His minor league numbers may not look pretty, but you can say this for Ar
enas, he eats a lot of innings, doesn't strike too many hitters out and walks even less.
Ryan Brasier (LMP) 15 IP 6 BB 15 K's 2.87 ERA – Brasier took a big step forward last season with his performance in AA/AAA. While he walks too many batters he also has good enough stuff to strike them out. Very good performance in Latin America should allow him to get a good look in Spring Training next year.