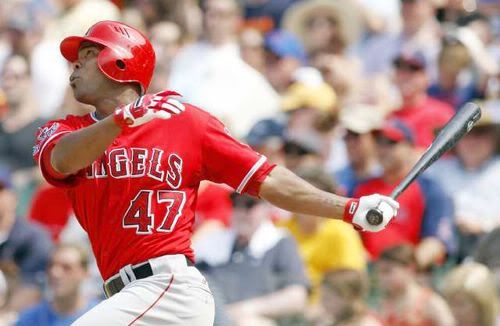 UPDATE: The deal is said to be for $33.5 million, which is definitely a very nice price for the Angels.
It is official, Jerry Dipoto don't mess around. In an off-season highlighted by the acquisitions of Albert Pujols and C.J. Wilson, the Angels new general manager has moved on to now locking up the young core of the team by inking Howie Kendrick to a reportedly four-year contract. Financial details are not yet available.
This new deal buys out Howie's final year of arbitration plus three years of free agency. More importantly, it locks up the 28-year old Kendrick for the entirety of his physical prime, which is looking like it is going to be pretty good. Kendrick is coming off a career season in which he was selected to the All-Star team for the first time while setting career-highs in WAR (5.8), home runs (18), walk rate (5.7%) and slugging percentage (.464) all while playing what many thought was Gold Glove caliber defense at second base. It is probably safe to say that the Angels are locking up Howie while his value is peaking, but how much they are paying for that peak remains to be seen.
This extension might end up being well-timed though. While Howie's 2011 is far and away his best ever, he is in position to see his value get boosted even more in 2012 as he is widely expected to bat in front of Albert Pujols most of the time, a scenario which could very well lead to Kendrick posting career numbers yet again as opponents should be giving him better pitches to hit now. That could have meant Howie hitting the free agent market in 2012 looking for a big money deal.
For the Angels, this is a relatively low-risk deal. Kendrick seems to have settled in to being a consistently productive hitter at the big league level, though it seems he will never live up to his billing as a future star and batting champion. The lowest OPS he has ever posted is .721, and that includes a 2009 season in which he was briefly demoted to the minors. Howie has also developed into a very good fielder at second, so even if his bat does slip, the Halos still have a very nice defender at a key infield position. If there is a concern, it is that Kendrick has dealt with nagging injuries on an almost annual basis. He has played 140 or more games each of the last two seasons and has never really suffered a serious injury though, so this is not a major concern.
All in all, this is deal that seems smart because Kendrick is one of the better offensive producers in a lineup that can ill afford to lose quality bats. Full judgment needs to be reserved though until the money involved is revealed. Many have pegged Kendrick value as somewhere between $8 and $10 million annually, so it will be interesting to see where in the middle he meets. It will also be interesting to see how the deal is structured given the Angels' penchant for backloading contracts under Dipoto.
Stay tuned to the Angels news wire, they were rumored to be talking to Kendrick about a new contract earlier this week and the same rumor applied to Erick Aybar as well. Could he be next?