Yes, it is only May 9th, but it is time to talk about the All-Star ballot. I don't really care much for the All-Star game or the voting process, but every time I go to MLB.com or the Angels' website, I am clubbed over the internet head with requests, nay, demands that I cast vote for the All-Star team. VOTE NOW!
Alright, fine, I will if it means you will leave me alone (hmm, that sounds like something my wife says quite a bit… but I digress). The thing is I could easily just pick all the Angels and submit my vote, but not only is that lazy (not that there is anything wrong with that), it is also gives votes to Angel players that don't deserve them. That begs the obvious question, which Angel, if any, deserves my All-Star vote… and yours too, I suppose, but I'm rather self-involved so I only really care about my vote. Let's break down the candidates!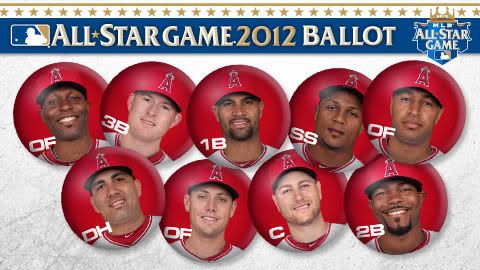 First Base – Albert Pujols: Well, this started off in depressing fashion, didn't it? I am still in the "he will be fine" camp, though I am looking for the emergency exit right now, but I can't possibly condone Albert's early season struggles by voting for him. Instead, my vote goes too… Paul Konerko, because I want to believe in a world where slugging first basemen in their late-thirties can still mash.
Second Base – Howie Kendrick: He isn't having quite the season he did last year when he made his first All-Star team, but he isn't far off. The power looks like it is here to stay and his average is steadily climbing. However, it wouldn't kill him to draw a walk more than once every Supermoon. I'd say that he doesn't have All-Star numbers right now, but I'm bullish on Howie so he gets my vote here.
Shorstop – Erick Aybar: Even Albert Pujols thinks Aybar's early season numbers are ugly. No thank you, sir. Instead, I will vote for Asdrubal Cabrera since I am legally prohibited from voting for Derek Jeter or Elvis Andrus.
Third Base – Mark Trumbo: This is a tough one. Trumbo might be the best hitter on the Angels right now, for whatever that is worth, but I would have to vote for him as a third baseman. That is downright comical. Please note that comical is not a bad thing. When in doubt, always vote for comedy. Miguel Cabrera and Adrian Beltre are probably more deserving, but who doesn't want to see Trumbo air mail a throw to first into the stands that hits one of the aloof celebrities that FOX plants in the stands so that they can promote some crappy sitcom and/or medical drama. Ooh! I hope it is one of the Glee kids!!!! VOTE TRUMBO!!!!!!!
Catcher – Chris Iannetta: This isn't even really a discussion, everyone should vote for Matt Wieters, but only because Toronto disappointingly put J.P. Arencibia on the ballot instead of Jeff Mathis.
Designated Hitter – Kendrys Morales: In a normal year, I wouldn't even consider voting for Morales since he is basically a platoon player with average numbers right now, but I'm in a sappy mood. The shame of the Angels' early season disappointment is that it has completely overshadowed the feel-good story that is Kendrys' return to being a quality big leaguer. For all he went through to get back on the field, he should be rewarded with an All-Star selection.
Outfield 1 – Torii Hunter: Hunter has been OK, but he has been too streaky to earn my vote. Besides, he needs All-Star Weekend off to rest his old, weary bones. My first outfield vote thus goes to Josh Hamilton, who is putting up video game numbers right now, in case you missed his recent four-homer game. Only that kind of epic performance can force me to overrule my rivalry bias to vote for a Ranger.
Outfield 2 – Peter Bourjos: If Scioscia won't play him, how can I vote for him? So very sad since I still have an unhealthy mancrush on him. Since I can't vote for Bourjos and his amazing speed, I will vote for someone else who can provide endless amount of entertainment, Yoenis Cespedes who will either reward us by hitting a 500-foot homer or striking out with such ferocity that it triggers the tornado alert system in Kansas City.
Outfield 3 – Vernon Wells: And now it ends on a depressing note. Wells has been better this season, but still. No freaking way. Based on early season numbers, this final vote should go to Adam Jones, but I already voted for one Oriole, and that just feels wrong. I'm calling an audible and casting my vote for Josh Willingham since he has been murdering the Angels all season long, plus the Twins look like they could use a pity vote.
That was fun… ish. I am actually surprised that three Angels garnered my vote. When I went to write this, the over/under on Angel votes was set at 0.5 and I was betting the under hard.