Spring has sprung! Angels pitchers and catchers have reported to training camp today. In fact, RIGHT NOW, they have their very first workout. It truly is the most wonderful time of the year.
While this is a time for fans to rejoice, the players… maybe not so much. With the exception of a select few, the pitchers that just reported to camp are now immediately competing to keep their job to one degree or another. 28 men enter, 11 or 12 men leave.
So what is every Angel pitcher pitching for this spring?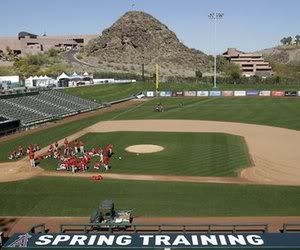 THE SUPER STARTERS
Jered Weaver – The Ace: The only question for Weaver this spring is if he can still pitch well despite having a much, much fatter wallet weighing down.
Dan Haren – The "Other" Ace: He was arguably better than Weaver was last season, but don't tell him that, otherwise he might ask for more money than Weaver when he undoubtedly starts talking extension with the Halos some time in the next year.
C.J. Wilson – The "New" Ace: "Hi, I'm C.J., you used to hate me. Please don't hate me."
Ervin Santana – The "Not Really an Ace But We Don't Want To Hurt His Feelings" Ace: There is nothing to fear for Ervin this spring as it is an even year. Move along, nothing to see here.
FIVE FOR FIGHTING FOR THE FIVE SPOT

Jerome Williams – The De Facto #5: The feel good story of last season, Jerome knows the job is his to lose, even if the coaching staff claims it is an open competition. He was great last year. He was fantastic in winter ball. He should be good this spring. Should. But really, he just needs to not be awful.
Garrett Richards – The Guy Who Is Not Quite Ready But He Might Have to Be: He couldn't handle the majors last season when he got the call up. It is hard to imagine he got significantly better in the off-season, but perhaps getting some more attention from the coaching staff this spring can push him to the next level. Still, he'll probably have to be so good (or Williams so bad) that the coaching staff won't have any other choice but to give him the 5th starter's slot instead of sending him to Salt Lake.
Trevor Bell – The "I Can't Believe He's Not Out of Options" Option: Seriously, how is he not out of options? Technically, Bell is in the competition for the fifth starter's job, but he has been passed over for such a role time and time again. Maybe the new regime will see something in him this spring to make them think differently. More likely though is that Bell will end up back in Triple-A or, in a best case scenario for him, win a job as the mop-up man in the bullpen.
Brad Mills – The Guy Who Got Traded for Mathis: Getting traded for the worst hitter of the 21st century doesn't exactly instill me with confidence. Nor does being a left-hander that can't get lefties out. Still, Mills was a decent prospect not too long ago, so there is talent there. He's a longshot for the rotation, but he is probably going to be the top option whenever the Halos need a spot start. If he really impresses in camp, he might even be able to snag a bullpen spot as a longman and occasional LOOGY.
Eric Hurley – The Scrap Heap Pick-Up: Hurley was a former first round pick in 2004 and a top 100 prospect as recently as 2007. He has 24.2 innings of big league experience and they were all terrible. His destiny is likely to be a sacrificial inning eater for the high altitudes of Salt Lake. FYI, he is not on the 40-man roster, so he is beyond a longshot.
THE FUTURE OF THE ROTATION IS… LATER
Matt Shoemaker – The Underdog: Short on talent, but big on results. Shoemaker was the surprise of the system last season and has a shot at being a surprise spot starter in the majors later this year if he can translate that success to the Pacific Coast League. But first, he'll have to use spring training to win over the coaches and talent evaluators so that they will have enough faith in him to give him a call up should the need arise.
John Hellweg – The Lottery Ticket: If everything goes right, Hellweg will be fronting the rotation in a few years. Please note that I said "a few years." All Hellweg will be doing in camp, hopefully, will be picking the brains of the established pitchers.
Ariel Pena – The Scratch-N-Win Ticket: That label undersells Pena, but he is still a lesser prospect than Hellweg and farther away from the majors. He could be great someday, but he'll only be in camp so that the new front office can get a closer look at him.
Fabio Martinez Mesa – The Rehabilitation Project: Fabio has loads of talent, but is coming off a lost season due to arm problems. He's really only on the roster so that he didn't get poached via the Rule V draft. I don't even know if he is healthy enough to participate in camp.
THE GAME-ENDERS (BUT NOT NECESSARILY IN A GOOD WAY)

Jordan Walden – The Closer Whether You Like It Or Not: The Angels didn't bring in any competition for him, so Walden is the unquestioned closer despite his 10 blown saves last season. That is for the best though because he has loads of talent and should spend the spring focusing on shoring up his weaknesses and not worrying about his job.
Scott Downs – The Linchpin: He may not be flashy, but he is far and away the best reliever the Angels have. His only mission in training camp is to not get hurt. If that means being a bad father and not playing with his kids this year, so be it.
LaTroy Hawkins – The Old Dog: He may not be the most talented right-handed relief option or even the second-most or third-most, but he has eons of experience. Since Mike Scioscia is calling the shots, that experience is all Hawk needs to enter camp as the de facto right-handed setup man. There is almost nothing he can do to make Scioscia change that decision before the regular season starts. He loves veterans that much.
STUCK IN THE MIDDLE
Hisanori Takahashi – The Enigma: He wasn't as good against lefties as he should have been, but he was better against righties than he should have been. That could potentially reverse this season. Or it could not. Who knows. Either way, his contract is guaranteed as is his role barring almost everyone else in the bullpen somehow having career seasons and leapfrogging him.
Bobby Cassevah – The Big Question Mark: He was the de facto right-handed setup man by the end of last season, though he seemed to be using a bit of smoke and mirrors to pull it off. If he wants to stay in a major role, he needs to have a solid spring. There is a slight chance that Cassevah gets returned to the minors in the event an unforeseen relief option wows the coaches as Bobby is the only middle reliever with options remaining.
Rich Thompson – The Unwanted: Numbers-wise, Chopper was strong last season. Alas, Scioscia doesn't trust him. As unfair as it might seem, Thompson is heading to camp fighting to hold on to his bullpen job and spot on the Angel roster. He's in big trouble if the Angels finally get around to adding that second veteran bullpen arm they've been looking for the last few months.
AT LEAST THEY ARE ALREADY ON THE 40-MAN ROSTER
Kevin Jepsen – The Has Been: Just when it looked like he was going to take over the setup role, Jepsen fell apart, completely losing the strike zone. Injuries seemed to be the primary culprit and he is supposed to be healthy now, but for all intents and purposes, he might as well be a rookie trying to prove himself all over again.
Michael Kohn – The Never Was: Jepsen may have fallen apart after being sent down to the minors last season, but Kohn acquitted himself nicely after his own demotion. He had the look of a guy who could really be a weapon last spring; maybe he can recapture that look and hold onto it this time.
Ysmael Carmona – The Most Likely to be DFA'd: He didn't pitch last year due to injury and I'm not even sure he is healthy enough to be at camp, much less competing for a spot. If the Halos need to clear a roster spot for someone, expect Carmona to get the boot or placed on the 60-day disabled list.
EVERYONE ELSE
Francisco Rodriguez – The Other: If a reliever not on the 40-man roster is going to make the bullpen, Wolviriguez is the best bet. He has a limited ceiling, but Scioscia knows what he can do and has shown an inexplicable amount of trust in him despite his lack of a track record.
Loek Van Mil – The Tall Man: He's 7'1″ so he'll get noticed. Angel prospect geeks like him and think he could help the team this year, but he was dumped from the 40-man roster this off-season, so the new front office doesn't seem to think very much of him. But hey, he's so tall!!
David Carpenter – The New Hope: His "stuff" rates out as being good but not great, but his numbers in the minors last season were tremendous. He probably isn't going to be ready to break camp with the team, but give him a few months and he could be in line for a mid-season call up to save the leaky bullpen.
Daniel Tillman – The New Ace: We had Tillman rated higher than Carpenter on our top prospect list, but that is really just because Tillman is further away from being big league ready. Tillman has better stuff and could profile as a closer eventually. He just needs time to get there.
Ryan Brasier – The Organizational Arm: When you go to Tempe to watch the Angels this spring, you inevitably see a guy on the mound and can't figure out who in the world he is. That guy is Ryan Brasier.
Matt Meyer – The Guy Who Is Only Here Because He's Left-Handed: Meyer is a southpaw reliever who has been bumping around the minor for a bit. He's still just 26 and he can miss bats, but he misses the strike zone almost as much.