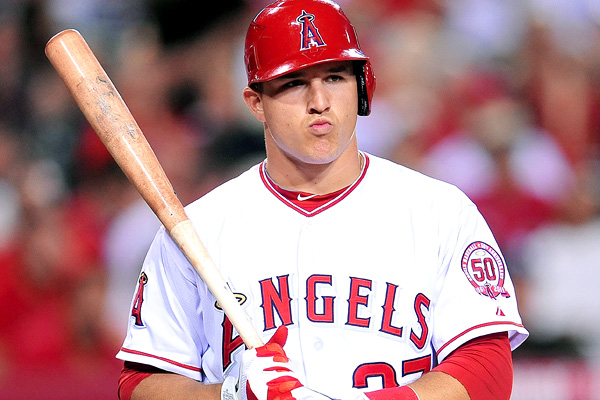 1. Mike Trout – He's already the best player on the Angels, but I think most of us knew that going into the season. His .400 BA in AAA did nothing to deter that, but one has to question Scioscia's sanity for waiting so long to promote him. In the first 20 games without Trout, the Angels were 6-14. The next 20 games with Trout, 12-8. That's no coincidence either. Trout is hitting .333 and the sample size isn't exactly small. He's hitting with power, playing incredible defense and has provided the winning attitude and spark plug for a team that lacks identity and consistency. He may not here to be the savior for the Angels this season, but if he keeps it up, he may accidentally stumble into such a role. Stock is certainly up, though there really isn't any stock to speak of anymore, as he's gone from elite prospect to bonafide all-star and Rookie of the Year candidate.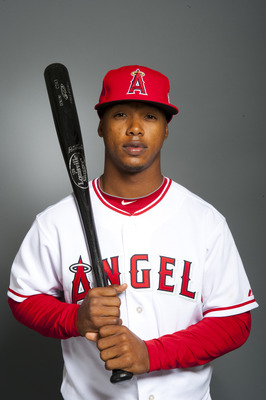 2. SS Jean Segura – One third of the way through the season and Segura has 18 stolen bases in AA. He's playing a competent shortstop, and has the necessary pop in his bat to make a difference. But his home ball park and the league he's playing in will certainly knock some of those offensive numbers down below where they reasonably should be. The batting average isn't where it should be yet (.272) but I suspect that by the end of the season it will be (.290+). His stock is down for now, but not out. He still has a rare skill set from a shortstop, has the versatility to play 2B or 3B and could be a hot commodity in the trade market should the Angels decide that Kendrick and Aybar need no competition for the next 4 years.
3. RHP Garrett Richards – Richards had three consecutive rough outings that now appear to be injury/dead-arm related before his latest two starts when he was back to his old dominant self. When healthy, Richards has been stellar in the Pacific Coast League this season, which is a darn near impossible task. Let's keep in mind that Jerome Williams owns a 3.77 ERA in Anaheim the last two seasons. In AAA, that number was at 3.91. Richards is ready to be a starter in the majors and I suspect he won't be in the minors much longer. His stock is up.
4. C.J. Cron – He's alive! After being largely dormant for the better part of two months, Cron's bat has come alive. And make no mistake, Cron was ONLY drafted for his bat and his bat will be the deciding factor in how successful he is as a professional. He's now hitting ..284 with nine doubles and six home runs at the one third mark. The power, discipline and general average aren't where they need to be if he wants to remain a top prospect, but he's really in a groove, hitting over .350 in the month of May. Cron hasn't proven capable of hitting lefties yet, and he also suffers from playing in the ONLY pitcher friendly park in the Cal League (.316 BA away from home, .205 at home). So he's better than his numbers look. Ultimately there will be three deciding factors in his justification for being a good first round pick. Home runs, batting average and plate discipline. The home runs are beginning to pour in, the batting average is improving. All that's left are fewer K's and more BB, which we've already seen signs of. Cron's stock is on the rise since April and back where it was after he showered the Pioneer League with mammoth home runs in late 2011.
5. Nick Maronde – Not enough good things can be said about this kid. He was the steal of the draft last year. College lefties with a big projectable frame, good control, low to mid-90's heat, wipeout slider and developing change don't leave the first five picks of the draft. In fact, in any normal year they would be off the board before the third pick of the draft. So how is it the Angels were able to land one in the 3rd round? Excellent scouting. It's no secret Tom Kotchman's influence in the state of Florida is unparalleled. He must have watched this kid a lot at the University of Florida where he was a reliever, and an inconsistent one at that. But much like with Garrett Richards, the Angels seemingly knew something was there despite the rough college numbers and have unearthed a potential front of the rotation starter. He's skipped Cedar Rapids and was downright dominant in the Cal League before landing on the 7-day DL. I wouldn't rule out finishing the season in AA for Maronde and potentially being ready for a starting gig with the Angels by the end of next season if he can stay healthy. Stock is skyrocketing upward.