Almost… there… Opening Day is so, very close for the Angels but they do have a few housekeeping matters to tend to before Friday. Namely, they must decide on the final bench and rotation spots. Not exactly the most scintillating topic, but a necessary one nonetheless. So who's going to make the team and who's going to get a pat on the back accompanied by a one-way ticket to Salt Lake?
Quick note, I'm assuming the Angels dump Bobby Abreu either via trade or just straight out release him, so that means there are two potential bench openings to consider for the purposes of this exercise.
Alexi Amarista
Why? Because he is fun-sized! Also, he plays second base and the outfield and can probably even make the occasional cameo at shortstop and third should the need arise. His biggest asset though is that he is speedy and is thus could actually see a fair amount of use as a pinch-runner.
Why not? Because umpires keep mistaking him for the batboy (short jokes never get old). Also, if the Angels have real designs on him taking over the Izturis role next year, Amarista is better off in the minors playing daily and getting more familiar with the defensive positions that he has little experience at.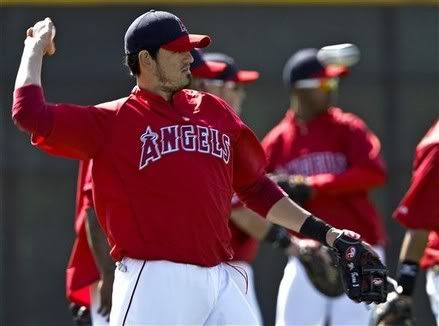 Jorge Cantu
Why? Because he had a good year or two a few years ago. Also, he theoretically can play both corner infield positions and provide some pop off the bench.
Why not? Because communism works, in theory. Also, Cantu, in practice, is a miserable defensive player and because the Angel lineup is improved this year, they have almost no need for a pinch-hitter off the bench, regardless of whether or not he actually still has pop in his bat.
Ryan Langerhans
Why? Because Jerry Dipoto is down with OBP. Also, Langerhans is a fine defender at all three outfield positions and swings a left-handed stick, which makes him a more ideal replacement for Abreu.
Why not? Because he had a bad spring, which shouldn't matter but somehow probably will. Also, the Angel outfielders are all good defensively, so a defensive replacement is not something they need.
Hank Conger
Why? Because keeping three catchers for no reason would be the most Scioscia move ever. Also, if carry 14 position players is only going to be temporary, the Angels could sneak in a start or two for Conger before optioning him to Triple-A, which they can't do with Cantu and Langerhans who are both out of options (I think).
Why not? Because Dipoto supposedly has final say on the roster and that means no third catcher. Also, Conger is better off reporting straight to Triple-A and playing everyday so that he can continue working on his defense rather than sit on the bench in Anaheim getting scowled at by Mike Scioscia.
And now for the final spot in the rotation, which is probably already decided but the team is acting like it isn't.
Jerome Williams

Why? Because he is out of options. Also, he pitched well to end last season and it would be dumb to release or trade him simply because he pulled his hamstring during training camp.
Why not? Because there is a reason he was out of baseball. Also, his strong return to the majors last season was vastly overrated because he was mostly just beating up on the Mariners, A's and September call-ups.
Garrett Richards

Why? Because he has pitched well in spring training. Also, he has a lot of potential and could be really push the Angel rotation to ridiculous heights if he realizes it.
Why not? Because spring training performance means nothing. Also, he still isn't a finished product and could probably benefit from spending some time in Triple-A.
If I were making the final roster choices, I'd go with Amarista for the pinch-running and infield depth, Langerhans because, well, because he is not Jorge Cantu who I think has no utility whatsoever and Williams in the rotation because he is out of options (have I mentioned that yet?). However, Arte Moreno keeps refusing to give me Jerry Dipoto's job, which means I don't get to make these call. My gut tells me that the team almost agrees with me, but will choose to keep Cantu over Langerhans because they seem to think Jorge is just such a swell guy. Of course, if they decide to hold onto Abreu, then these decisions are much easier and almost certainly means Amarista gets the final bench spot since their won't be room on the 40-man for Cantu or Langerhans.