In 2010, it was the Bullpen of Doom. In 2011, it was the Blowpen. In 2012, we are proud (and by proud, we mean emotionally crushed) to introduce the Bullpen of Perpetual Sorrow.

Not even 24 hours after Mike Scioscia mishandled the Angel bullpen to cost the Halos a game, the relievers took matters into their own hands. Hisanori Takahashi, who was actually brought in at the appropriate time this game, did his best to nearly blow the game but he was bailed out by Kevin Jepsen even though Jepsen had no business pitching to Justin Morneau with the game on the line. Though Jepsen bested Morneau, he came back the next inning to prove my point, giving up a homer, double and single before giving way to Scott Downs a few batters too late.
Finally, we got the best reliever in the game, only he quickly left the game after a would be inning-ending ground out to first ended with Downs dropping the ball thanks to Denard Span gruesomely stepping on Downs' ankle, tying the game and likely sending Downs to the DL. Oh, the sorrow.
But the coup de gras was Mike Scioscia calling on Rich Thompson to stop the bleeding. He did not stop the bleeding. In fact, he ripped the wound wide open, allowing four runs in the eighth inning, once again giving away the lead the Angels had just regained. Of course, he was only allowed to stay in the game because Mike Scioscia somehow though that LaTroy Hawkins or Jason Isringhausen would disintergrate into dust if asked to pitch two days in a row. That proved a fatal mistake because the Angels scored twice in the ninth, meaning they lost by one.
So much sorrow.
Game Notes

The Angels kept the clubhouse doors closed after the game to figure out what to do with the bullpen, especially since Downs appears to be DL-bound. The meeting lasted awhile, most likely because the Halos have basically no relief depth in the minors. In other words, things are going to get worse before they get better.
Vernon Wells had two hits, a double and an RBI and the Angels still lost. Sonuvabitch.
Dan Haren looks like he is almost over his case of dead arm… almost. The seven Ks in five innings is a great sign, but he still was a somewhat hittable. The killer though was that he wasn't very efficient, which meant four innings of bullpen work. We all know how that worked out.
Mark Trumbo DH'd today, which makes it seem pretty clear that he is going to play against all southpaws, which is a good idea because he hit a ball about seven hundred miles off of Liriano. However, he did not play third base. That's three days of no fielding work for him, so Scioscia does look like he is subscribing to the notion that Trumbo needed a bit of a mental reprieve from all those judging eyes when he is at the hot corner.
Angel A-Hole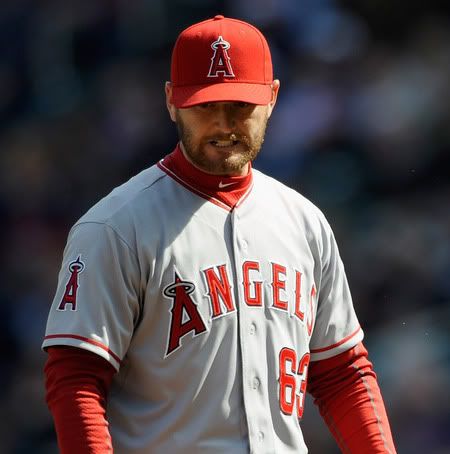 This could've gone to Jepsen, but his blown save had an element of bad luck to it. Thompson though, he was just plain awful. In fact, he was so bad that his roster spot could well be in jeopardy depending on how dramatically the front office reacts to these consecutive Bullpen of Perpetual Sorrow meltdowns.