They say that the more things change the more things stay the same. For the Angels in 2012, that adage rings particularly true through the first series of the season.

The Angels have a new slugger in Albert Pujols and a new old slugger in Kendrys Morales. The Angels have a new catcher. The Angels have a new set of high expectations.
The Angels still can't hit with runners in scoring position. Today, they took the collar in 13 at-bats with runners in scoring position and even resorted to their old trick of having the bases loaded with nobody out against a pitcher who couldn't find the strike zone and managed to only plate one run. Having the new guys in the lineup doesn't help when the holdovers from last year, namely Torii Hunter and Vernon Wells, combine to leave a small village on base. The Red LOBsters ride again!
To put it mildly, this is very frustrating, but it is also way, way, way too early in the season to be worried. The Angels probably should have won a home series against the Royals, but these things happen over the course of the baseball season. Just because it happened at the very start is no reason for anyone to get their panties in a bunch (unless you are a Red Sox fan, then you should absolutely panic). Give it time, Angels fans. This lineup will find a rhythm. The starting pitchers will live up to their billing and the Angels will start winning.
Game Notes

Let's all climb down out of Mark Trumbo's ass regarding his defense for a minute. He did have another error, but he also made a some nice plays. Those nice plays tend to come when he is reacting instinctively whereas the errors come when he is thinking and focusing on doing everything right. Those thinking plays will become reflexive if he just gets enough reps at third. That being said, it might do him some good to get a few games off from third so that he can clear his head as all this attention on his errors seems to be affecting him mentally.
The Angels have played three games and have just one home run, that being the one Vernon Wells hit today. These are facts.
Now that I have said something nice about Vernon, let's focus on the negative. His at-bat with runners in scoring position in the third was just abysmal. It was vintage 2011 Wells at his worst, chasing pitches well out of the strike zone. To me, it was Vernon once again trying too hard to be the hero and not staying within himself. He said he fixed that, but I guess he had a relapse.
I know the Royals aren't a big draw, but the stand in all three games this series seem to be kind of empty. I get folks not showing up for on Easter Sunday, but the last two games (which both were announced as sellouts or very, very close to them) were a bit curious. I don't think this means anything, but it will be an interesting trend to watch.
I thought it was a nice little moment when new Royal commentator, our old friend, Rex Hudler caught a foul ball in the broadcast booth and received a warm ovation. Clearly the Wonder Dog is well-liked in Anaheim (though I'm not broken up about having him gone) and the fans did right by him even if the organization seemed to divest themselves of him rather unceremoniously.
Angel A-Hole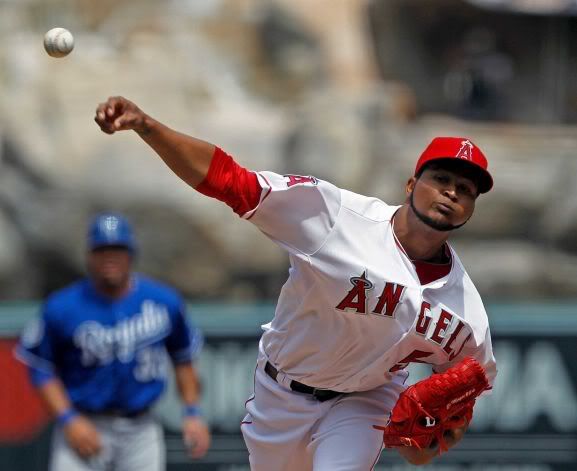 The offense didn't do much today, but Santana didn't give the team much of a chance. His command was poor. His mechanics were a mess. One can't help but wonder if him being a week behind in his spring training regimen after getting struck by a liner might have him not quite as ready for the season as hoped. Or maybe he just wasn't very good.