To quote John McClane, "How can the same shit happen to the same guy twice?"
Aside from the fact that this game might very well spell the end of the Angels' season, the only thing that anyone is going to remember this game for is Mike Scioscia once again pulling Zack Greinke during a great start in favor of Ernesto Frieri. The same Ernesto Frieri who spoiled the same Zack Greinke's last great start in his own last relief appearance. So what happened? Well, you already know. Ernasty became ErnestNOOOO!!!!!
And thus sparked the anti-Scisocia rage. Many feel that at 108 pitches, Greinke could have gone out for another inning. Others, and I am in this camp, have no real problem with him exiting in favor of the Angels' best reliever, even if Frieri was coming off a wretched previous appearance. After arguing with what felt like half of Twitter about this after the game, I think the best argument I heard came from the one, the only Sam Miller:
@monkeywithahalo @productiveouts Any fresh/decent closer should be better than even a great starter going through the order a 4th time.

— Sam Miller (@SamMillerBP) September 21, 2012
I couldn't agree with this more. Put aside all talk of Greinke's pitch count and I think, at a minimum, this justifies Scioscia's choice. And really, nobody would even be arguing if Frieri didn't hang his slider (and really, I have more of an issue with him throwing that pitch than anything else). Most of the season, Ernie has been a very good reliever. Recently, he has been less so, but hardly a guy I would consider even below average.
If you want to assign fault to Scioscia, and Twitter suggests most of you do, it is that he didn't know his reliever well enough to foresee that his struggles from that KC game would carry over into this game. I'm not really sure any manager could know that, but maybe they should, I don't really know.
Truth be told, I don't think this would have been much of a debate at all if we were back in July. Let's face it, Angel fans are mental messes right now, clinging to every last shred of hope that they can reach the post-season. Losing yet another game as a result of a late-inning gut-punch that Mike Scioscia possibly initiated is just becoming to much to handle. Really, we should probably just be thankful that the season ends in two weeks because the fanbase is probably three weeks away from a collective nervous breakdown.
Game Notes
— Nelson Cruz didn't touch the plate. That ended up not mattering, but, yeah, ROBOTS NOW!
— Mike Trout didn't exactly help put an end to this whole Trout vs. Cabrera debate. I'm not hating on him at all, mind you, but he had some big moments that he came up empty in. Let's just say I'm not looking forward to talking to any Tiger fans tomorrow.
— There was no bigger dagger in this game than Jon Heyman tweeting in typical smarmy Heyman fashion about how the Halos should still regret failing to close on signing Beltre two off-seasons ago. Nothing pains me more than agreeing with that blowhard.
Halo A-Hole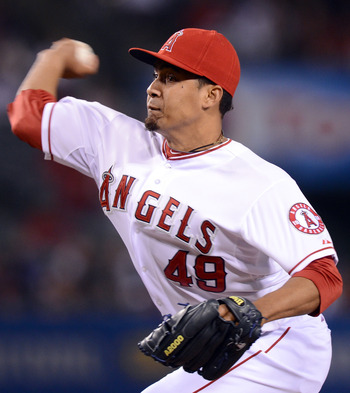 Like you even had to ask.