There is no stopping the Angels now… or is it there is no stopping for the Angels now? Can it be both?
Coming off their second consecutive sweep of a fellow Wild Card contender, the Angels are the hottest team in baseball and many of their problems seem resolved.
The rotation? Fixed.
The bullpen? No longer taking on water.
The lineup? Clutch enough.
Of course, the crazy thing is that even with as well as they are playing, they still are far from a lock to make the post-season. Sure, they are only one game back of the second Wild Card spot, but they share that pleasure with the Rays. And it doesn't look like the A's are going to help them out by coming back to the pack by themselves since they are dominating every non-Angel team that they face.
Game Notes
— When it comes to managing the bullpen, with a few exceptions, Mike Scioscia gets it. In the eighth inning, he could've pulled Jepsen and gone with a struggling Scott Downs or a still truly untested Nick Maronde to face Andy Dirks (or more likely a right-handed pinch-hitter). But he didn't. Instead he did the absolute right thing to have Frieri come in for the four-out save, something I'm not sure he would've done as recently as last season at the height of his managing the bullpen by inning number days.
— For only the second game since August 15th, Mark Trumbo didn't strike out. For the first time since August 15th, Trumbo didn't strike out AND got a base-hit.
— Alberto Callaspo had a shot at the Halo Hero thanks to his big two-run homer, but he blew it with his error in the ninth inning. I know the Angels are on a roll and everything, but with the way this season has gone at times, I was ready to start writing hate poetry to Beto for that clank job.
— With this win and the Rays beating the Rangers, the Halos are now six games abck in the division. I'm not saying, but I'm just saying.
Halo Hero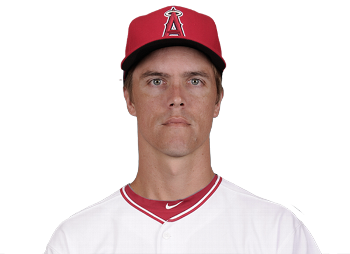 Another great start for Greinke earns him another Halo Hero. You can tell how much it means to him by the exciting look on his face.