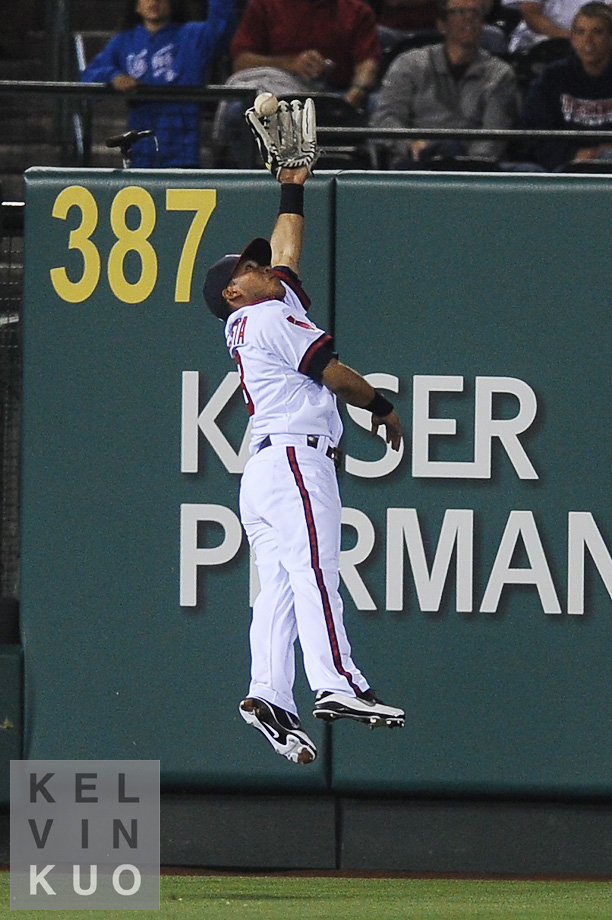 It's hard to imagine Alexi Amarista can do any more than he has this spring to earn a spot on the Angels. After impressing in his second consecutive season of winter ball, Amarista entered spring as a dark horse candidate to inherit a backup role with the Angels. But he's done nothing but impress since stepping onto the field and may have potentially earned a spot in a featured utility role. In games, he's logged time and impressed defensively in the outfield and at second base. I personally had the opportunity to watch Scioscia conduct in-depth infield practice with Amarista at both shortstop and third base. On Sunday, the Angels inserted him into the lineup at shortstop after Erick Aybar exited for the day. It seems like only a matter of time before they give him a shot at third base as well.
Amarista has hit for average (.359), power (one third of his hits have gone for extra bases including two homeruns), has swiped three bases and shown the consistent ability to make contact (only three strikeouts in 40 at bats). Conversely, the Angels top contact hitter Alberto Callaspo has gone down on strikes five times in 40 at bats. This doesn't necessarily make Amarista automatically the best contact hitter on the Angels, but it does mean he's capable of becoming that hitter. Really, the only thing standing in Amarista's way of inheriting a utility role on this team and the 350-500 at bats that come with it is Maicer Izturis.
Izturis has battled leg issues this spring (no surprise there) and has been limited to only 10 at-bats. With teams like Minnesota, Oakland, Colorado and Philadelphia in the market for infield depth, it seems possible Jerry Dipoto could post Izturis on the trade block and see what sort of interest his availability creates. In fact, such a trade may even become likely on the news that Philadelphia will be without Chase Utely's services at second base for the foreseeable future and have Placido Polanco slotted to be their starting third baseman.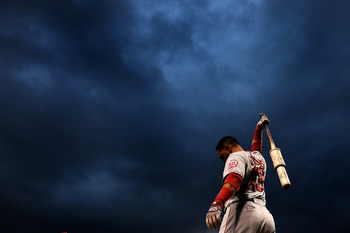 Such a redundancy of skilled utility players isn't necessarily a problem though and if it were, the Angels are in a setting where they can allow it to fix itself. Amarista struggled to get his timing back in AAA after sitting the bench in Anaheim for weeks at a time, which explains his .292 BA. It wouldn't necessarily be a bad thing if he were to return to Salt Lake to further hone his skill set. Such a move may even inflate his value as a potential trade chip too, beause there's a good chance he'll hit well over .300. Maicer Izturis also doesn't have the greatest track record of staying healthy. When he inevitably makes his annual extended stay on DL island, Amarista would most certainly be promoted. Izturis is also expected to reach free agency after this season, and Amarista would be a low cost replacement.
So how long before Amarista takes over the utility spot? Will it be on Opening Day and be accompanied by an Izturis or Callaspo trade? Will it happen as soon as Izturis sustains a hamstring injury? Will it happen at the trade deadline when Jerry Dipoto starts wheelin' and dealin'? Will it happen next season after Izturis leaves via free agency?