After Saturday's debacle, a nice 4-0 cushion early in the game seemed like a blessing. Surely the Angels would continue to pad that lead against the sad sack Royals and cruise to victory. That was the plan anyway.
But you know what they say about best laid plans. As it turns out, the Angels would never score again, thus subjecting the still recovering fanbase to a nerve-wracking final few innings after KC started eating into their lead one run at a time. That, of course, means a whole lot of bullpen to survive. Three-plus innings of Angel fans waiting for the other shoe to drop as Mike Scioscia rifled through relievers like Tony LaRussa in his heyday.
Would it be Nick Maronde? Nope.
Maybe Garrett Richards? No.
Perhaps Scott Downs? Negative.
Then it must be Jordan Walden, right? Sorry, not this time.
Last chance, Kevin Jepsen in to rip out our hearts? Apparently not.
Well how about that. The Angels hung on. They got the win they needed so desperately and didn't allow their spirits to be crushed by what transpired the game before. They remain 2.5 games out, but just keep hanging around in the Wild Card race. Just hanging around.
Game Notes
— I know we were all hoping that Mark Trumbo's big three-run homer was finally a sign that he was going to breakout of his recession (this has gone on to long to keep calling it a slump). Turns out, yeah, not so much. Three strikeouts followed the dinger and Trumbo still looks as lost as ever.
— Though I fully understand that Kendrys Morales does not have great platoon splits against southpaws, I really hate that he has now started just three of the last four games. He was swinging a hot bat this month and even had that epic pinch-hit homer off of a lefty on Friday. Why bury him in favor of a struggling Mark Trumbo and a Vernon Wellsian Vernon Wells?
— Admit it, you were nervous that Scioscia was going to go to Frieri in the ninth. Sure, he was supposed to be unavailable after pitching two days in a row. Also, Kevin Jepsen now has two saves on the season. Will wonders never cease?
Halo Hero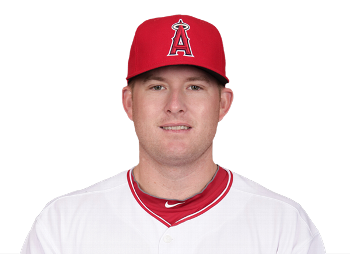 Not a good game for Mark, but his Trumbomb was the difference in the game, so we can overlook hit strikeout hat trick and throw the poor guy a bone.