A lot of people are going to say that the Angels choked. Such a statement is simultaneously accurate and unfair.
In the micro sense, yes, the Angels choked in this game. It was a game against the Mariners at home. That is a game the Angels should win. It is also a game the Angels needed to win since the A's lost earlier in the day. This was a golden opportunity to cut the Wild Card deficit to one game and put real pressure on Oakland and maybe even Baltimore. But the Angels didn't do it. They didn't get hits when they needed them. They got robbed over and over again by the Mariner defense. They had a miserable day in the field for the first time in a long time. And, once again, the Bullpen of Perpetual Sorrow reared its ugly head to turn a close game into a semi-blowout, thwarting the Angels' comeback attempt before it even began.
However, in the macro sense, the Angels haven't choked at all. They simply can't win EVERY game even though they have come awfully damn close over the last month. This one loss has made us all instantly forget that the Halos came into the game with a nice five-game winning stream. The pain of this loss has made it impossible for us to appreciate that the Angels have won 24 of their last 34, which is a scorching hot run. Like I said, they can't win every game but they are winning a heck of a lot of them.
They just didn't win this one, which sucks harder than anything. In one game they undid all the good they've done over the last month, including last night's seemingly huge win against King Felix. What sucks more the Angels pretty much now MUST win every game from here on out. They are all on the road. Three of them are against Texas. One of them is against Felix Hernandez. Winning them all is the only way for them to have a good shot at overtaking Oakland. Anything else and they are leaving a great deal to chance. Heck, even if they win them all chance is still going to play a major role. The A's basically play the same finishing schedule, only they are all at home and don't involve Felix Hernandez or Yu Darvish. Who's to say that they won't win them all or win five of the six?
This sucks. I hate that I love baseball so much.
Game Notes
— Ah, the bullpen, is there nothing they can't screw up? It started with some bad breaks on seeing-eye grounders, those should've led to one, maybe two runs. Everything else, that's on them.
— OK, part of it is on Scioscia. I'm not sure who a better alternative would've been, but going with Garrett Richards proved to be a major misstep. The guy is just exhausted. He's pitched six of the last nine days (not games), which is a bit much even for a guy who is used to relieving. The fatigue showed in his appearance and by that I mean it showed up on the scoreboard in the form of three more insurance runs.
— Jason Isringhausen says he is probably going to retire. Maybe he should talk to LaTroy Hawkins about doing the same and going in with him on a timeshare in Boca. His throw to first base on that bunt was the worst thing in a pretty awful game.
— Erick Aybar is going to catch hell for his costly error, but don't let it distract from the fact that he has otherwise been one of the Angels' best players in this 24-10.
Halo A-Hole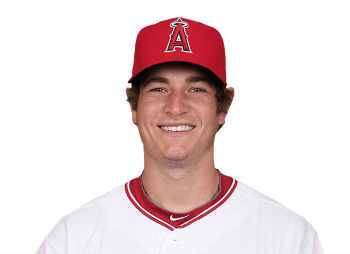 Today, I am ashamed to share the same first name as Mr. Richards.