The following group of players find themselves at a metaphorical crossroads entering the 2012 season.  Very rarely do we as analysts ever not come away from these all-important years without a definitive sense of what a player can do.  The journey to the major leagues, however, is rarely a straight, simple path.  A failed year of progression is not the "be all, end all" for such prospects, but more likely than not, we'll get a sense of who these players truly are after this season.
1. 1B/3B Casey Haerther
The 24-year old Haerther will get his first taste of the high minors in 2012.  After being drafted in the 5th round out of UCLA, Haerther successfully conquered the lower minors with a collective .309/.350 mark.  The Angels fan in me says that he has a future as a useful pinch hitter or backup corner infielder in the majors.  The scout in me says his legs are thick, swing is long and he lacks the torque or core strength to hit for the necessary power of a corner infielder.  If Haerther can turn some of those doubles into homeruns and continue to hit for average, I'd say that future as a major leaguer still exists.
2. RHP Matt Shoemaker

It's too bad you can't earn your way to the major league just on charm and awesome facial hair alone, because if that were the case, Shoemaker would be an Angel already. As a pitcher, before last season he was pretty much an afterthought.  But the further development of his splitter and a little action on his fastball have suddenly made him a viable candidate down the road.  He's headed for Salt Lake and he's not particularly young (25), so he's going to need to show the Angels that 2011 wasn't a pitcher friendly stadium fluke if he hopes to be anything but depth fodder in the future.
3. RHP Cam Bedrosian
The younger Bedrock finds himself in the most dynamic of situations without having thrown a ball outside of Rookie League.  Eddie Bane's final draft with the Angels may have been one of the most unsuccessful in recent history despite having five of the first forty picks.  If Bedrosian proves incapable of remaining a starter or even staying healthy in 2012, it actually wouldn't be a surprise because that's essentially what has happened to every one of the picks from that draft (with the exception of Taylor Lindsey).  But in order to remain relevant in future plans, Bedrosian is going to need to not only stay healthy and a starter but actually be successful in that role.  The last I saw of Bedrock Jr., I didn't think his delivery or command would play well in a rotation.
4. LHP Trevor Reckling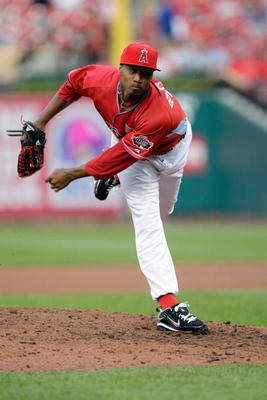 T-Rex enters 2012 as a relatively forgotten prospect, which just goes to show exactly how quickly the minor league world will forget about you.  After a brilliant 2008 and 2009 campaign, Reckling was shelled in AAA in 2010 as a 21 year old.  He returned to AA in 2011 and was solid enough to earn his way back to AAA for 2012.  Now the trick is to show scouts he's ready to make that jump back into the plans of a major league team.  He has the talent to do it too.  Despite such an unorthodox delivery, Reckling's doesn't require a great deal of effort.  He's getting better at repeating it every year, which has led to better control.  Reckling's fastball won't impress anyone at 89 mph, but because of his delivery it really jumps on hitters.  As his body fills out and he finds the right workout routine, it's possible Reckling could hit the low-90'swith his heater, which with his mechanics would actually make it a plus pitch.  His best two pitches however are his curve and changeup though, both of which grade out as above average pitches.  Frankly, I'd be shocked if Reckling didn't force his way onto a major league roster by 2013.  Nonetheless, should he fail to adjust to AAA hitters again, he would run the risk of disappearing off any depth chart.
5. 1B/OF Kole Calhoun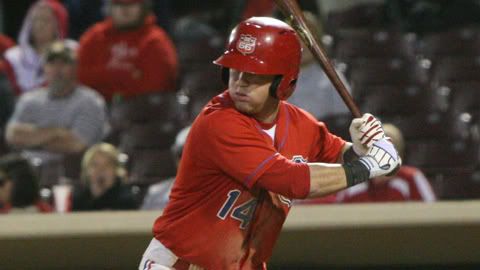 Calhoun is sort of the poster-boy of the new Angels minor league system, one that places a greater emphasis on plate discipline.  Calhoun was great in the Cal League in 2011, and that's essentially why not a lot of scouts are excited about him, it was the Cal League.  What does help Calhoun's case is that he did a lot of his damage in the only neutral park in the League (Inland Empire).  Kole is going to need to prove he can do the same thing against significantly more advanced AA pitching in 2012, otherwise he'll disappear into the abyss of minors.  He's not young and his physical tools don't jump off the page at you, so he has to be even better than most of his peers to gain the respect he deserves.  That isn't an issue though, because Calhoun is honest to goodness one of the most overlooked minor leaguers I've seen in a while.  His swing is beautiful from the left side, no wasted movement, good load, doesn't over-extend his legs which gives him a good base, quick hips that allow a shoulder-turn that simply throws his arms out at the ball.  As it is with most lefties, anything thrown on the inner half of the plate will more than likely leave the yard.  If you were to ask me, which if you're reading this article you must be in a roundabout sort of way, I'd say this guy will defy doubters and carve out a role in the major leagues.
6. 3B Kaleb Cowart
Cowart has reached the point where he needs to show the Angels something.  While he has physical projection in spades, he lacks the consistency to live up to the hype he created coming out of high school.  While his swing is beautiful on the upper half, his lower half is a mess.  He uses a high leg kick to load, however his "plant" is inconsistent.  When he steps it's either too long or too short which throws his swing off and could explain his contact issues.  My gut tells me this is something that will fix itself with enough time and repetition.  A full year in Cedar Rapids should do him well, that should be plenty of time to find his groove.  If he can't, if his future might be on the mound, where most scouts projected him to be anyway.
7. OF Chevez Clarke
This one is probably the biggest make or break situation of all in the Angels system.  Clarke has all the tools to turn into an absolute beast of a player.  His swing is really pretty too, it displays all his athleticism, his strength, quick hands, smooth stroke, and good lower body movement.  But there's too much unnecessary movement, his load is different and he really struggles with pitches on the outer half or higher than his belt.  Plainly put, there are holes in his swing that need to be fixed.  Most of these problems stem from a lack of experience.  Playing high school ball in Georgia doesn't offer the same opportunity to see top flight pitching the way players do in Southern California.  Clarke is unfortunately proving slow to adjust which will hamper him as he moves up the ladder.  There won't be any turning of a corner with Clarke, his progression will be little by little.
8. RHP Fabio Martinez
After coming from the Dominican Academy and dominating the low minors with his pure stuff, he still had plenty of unanswered questions.  His delivery requires more effort than you'd prefer, it places particular emphasis on his shoulder, but it worked out perfectly fine for Ervin Santana.  Problem is, it's not working for Fabio, he missed the entire 2011 season due to injury.  There's no word yet on whether or not he's healthy headed into 2012.  If he's not, I'd pretty much write him off as a prospect.  If he comes back, whether as a starter or reliever, and shows the same stuff, he'd only have his control to work on before appearing on the Angels depth chart.  But being a "glass half full" type of guy, I'm encouraged by the sign of the Angels adding him onto the 40-man.
9. OF Randal Grichuk
I'm using Randal's Little League picture, because I'm pretty sure he's going to read this article.  And by make or break season in this case, I mean either jump into stardom among prospects or remain merely a solid power-hitting prospect.  Really not much to lose here for Grichuk, but more than most to gain because of his high potential and the fact that he looks to be 100% healthy.  His swing is quite unique.  He doesn't swing through pitches or use his movement to flow through the ball when he makes contact.  He stays back behind the ball to the extreme.  It doesn't appear as though he uses his legs as much as most power hitters, but his hips and core are strong, as are his arms, which he throws through the zone.  He has excellent hand-eye coordination and makes lots of contact.  He's a great line drive hitter, but when the ball is low in the zone he drops the barrel on it with consistency and can certainly elevate it enough to leave the yard.
10. OF Matt Long
Watching Long's swing is an excellent study in leverage.  One peak at his numbers and you'd think he's a power hitter, but this isn't the case.  Long is small in stature and has a quick swing that doesn't generate a ton of drive in the ball.  But it's a short swing that's good for making contact.  What Long does so well is stay behind the ball and position his body in a low but solid and steady base that allows his arms to cut the bat through the ball at a slight upward angle which leads to high line drives.  In the Cal League, when balls get off the ground, they leave the yard.  Long's ability to make contact will be key as he moves onto higher levels.  I wouldn't expect many homeruns, but he has the look of a solid 4th outfielder that can contribute a number of different ways. If his patience proves to translate to upper levels of the minors I think a lot more scouts would take notice.