Just yesterday news broke that the Jeremy Hellickson of the Tampa Bay Rays was drawing trade interest from multiple teams. I have to imagine that Jerry Dipoto has at least kicked the tires on Hellickson, this type of move falls all too well into Dipoto's method of operation. Aside from the massive Pujols contract Dipoto is very conservative when it comes to giving out big contracts and will only do so if necessary, as we will likely see with Greinke later this offseason. It fits Dipoto much better to trade for a young dynamic player like Hellickson, a player that is very cost-friendly while being under team control until 2017. So far it sounds like he fits the bill nicely since he would give the Angels that strong #3 pitcher they desperately need. That is only if the Angels don't resign Greinke, if they did he would slot into the 4 spot with C.J Wilson just in front of him.
How sweet does that rotation sound? Weaver, Greinke, Wilson, Hellickson, Richards. That rotation comes off better to me than the rotation outlook from last offseason. Only because we all knew about Santana's unreliability and no one knew what to really expect from Jerome Williams. This rotation looks better mostly because of the fact that the Angels would have a far better #2 pitcher this time around with Zack Greinke. That's the kind of young, star filled rotation wet dreams are made out of.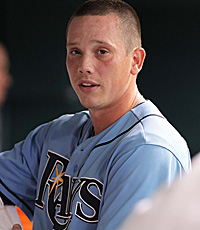 But what would the Angels have to give up to get at all this talent? What do the Rays badly need that the Angels have?
For starters the Rays just lost longtime CF B.J Upton to free agency and he's primed to get a big contract from a team that isn't the Rays. Now they have to replace him the smart way and we all know Andrew Friedman is more than capable of this, and to me it seems like he would love to get his hands on Angels CF Peter Bourjos. Bourjos is a similar player to Upton, minus the 28 HR power he displayed during the 2012 campaign. Peter Bourjos would be a valuable asset as a super-stud defender to the Rays pitching staff, and even though he had a bad year offensively this past season you have to understand that his erratic playing time was a big factor in that. Bourjos is capable of putting up a good average (.271 in' 11) as well as get on base at a decent enough rate (.327 in '11), all while being able to hit for decent power (12 HR's in '11). Even though Bourjos is one of the fastest players in the game he doesn't display any extra special base stealing prowess. He did steal 22 bases in 2011, but a player of his speed should be stealing at least 30 bags a year. Offensively he can use his speed to fly around the base paths, as shown by his 11 triples in 2011, while making a fantastic bunter with his high-pressure speed.
Should the Angels be trading him though? The Rays will want Bourjos to replace Upton and there's no getting around that, but can the Angels afford to lose him? Unless they trade Bourjos and resign Hunter out of free agency I don't think they should, and they more than likely will not do this. Aside from Wells, who the Angels fans will not tolerate starting, the Angels could have Kole Calhoun as a starting outfielder. That likely wouldn't happen as I don't think he's ready for a major league starting role just yet, he needs a little more time playing the reserve man before that happens. The Angels could flip Bourjos and sign someone like Swisher, Upton, or Bourn, but that would require a long-term contract worth at least $70 mil and these guys are all seeking $100 million dollar contracts. Pass.
And yes, I didn't mention Josh Hamilton there for a reason, stop suggesting him, you need to cut it out. You know who you are.
I don't think any of that matters though because Dipoto has already stated that the starting OF for 2013 will be Trout-Bourjos-Trumbo with Wells in the outfield. I know that this is probably something that's prone to change if necessary, but it seems like Dipoto has been planning on using this outfield for a long time now so I don't know if he'll shake it up for Hellickson.
Let's take a second to talk about Hellickson now, is he worth trading for? Simple question, I drafted him as my first pitcher for my fantasy baseball league, so obviously I would say yes.
But do the numbers say yes?
In his first season as a major league starter back in 2011 Hellickson pitched to a 2.95 ERA in 189 IP which ultimately won him the Rookie of the Year award, just narrowly beating out the Angels Mark Trumbo. This past season was a lot of the same for Hellickson, though he did look a little more hitter-friendly, allowing 146 hits in the 189 innings he pitched in 2011 as opposed to the 163 hits he allowed in 177 innings pitched in 2012. His strikeout numbers saw a nice little jump in improvement however, going from a 5.6 K/9 rate to a 6.3 K rate in 2012. He's not a guy that will eat up innings so the Angels will absolutely NEED a bullpen that can chew up innings reliably. If Dipoto sees fit to make this move then he better be damn ready to put together a kickass 'pen. Not that he shouldn't do it regardless, but with this rotation the Angels would have two guys who can't reliably go deep into games starting back to back, Jeremy Hellickson and Garrett Richards.
This poses a little trouble in the long run, we saw what happened with the Angels 'pen when they had to cover some extra innings.
In my eyes he's worth trading for, but is it worth giving up Bourjos for? That's arguable, but there may be alternatives to Bourjos. Carlos Pena has reached free agency, meaning the Rays are not only out an OF spot, but they have a hole to fill at 1B as well. Sound familiar? The Angels could send Trumbo to the Rays and give them a young player capable of playing a corner outfield spot and 1B in addition. This means that Desmond Jennings would have to move to CF but he has the tools to be successful in center while letting Trumbo handle left or right field. Trumbo could suitably replace the power that left with Upton and Pena, Trumbo hit 22 HR's with 57 RBI's in the first half of 2012 before going into a terrible regression in the second half that saw his batting average and OBP fall far below .300 while slugging a measly .359 with 10 HR's to boot. Mark Trumbo showed in the first half that he wasn't just a hack 'n slash guy, he displayed great control of the strike zone and impressive discipline while driving the ball to all sides off the field. In the first half he was a league leader in SLG% with a .605 mark that paired up beautifully with his .965 OPS, not to forget that his .358 OBP was far better than what anyone could have expected from him. Trumbo does have the ability and drive to improve once again, and while I'd rather see him do that with us than a contending team if it has to happen then so be it. I doubt he'd get traded unless Dipoto intended on bringing Hunter back, which sounds plausible but I don't believe it will happen.
All in all the Angels would be very well off for themselves if they were able to trade for Hellickson, though it would come at a tough cost. If I were Dipoto I would consider trading Trumbo and resigning Hunter on a one year deal with Kole Calhoun slated to start full time in 2014, just entertain the idea a little. This all just goes to show how many possibilities there are this offseason for Dipoto to capitalize on.
Let's hope he does a better job of retooling the 'pen than Reagins ever did.