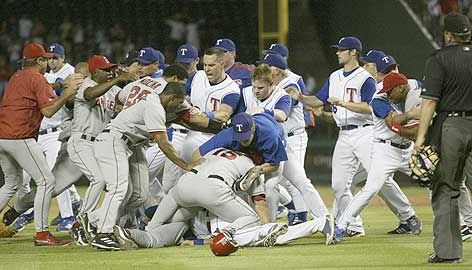 After two straight AL pennants for the Texas Rangers disrupted a decade of AL West domination by the Angels, a great rivalry was ignited. Those flames have only been fanned by the Angels making the epic move to sign Albert Pujols, a move the Rangers countered by paying big money for the right to Japanese sensation Yu Darvish, with a potential Prince Fielder signing looming. Given the state of the rest of the AL West, it is safe to say that Angels and Rangers will be going at each other for the next several years.
There will be bad blood.
There will be trash talk (see Kinsler, Ian),
There will be… incest.
No, that's not some sort of redneck in-breeding joke aimed at the state of Texas (though, I guess, why not?). But rather, it is a reference to the fact that these two teams simply cannot stop poaching personnel from each other.
This sort of thing happens all the time in baseball, but the depth at which it has occurred between LA and Texas is a little bit ridiculous for two teams who are trying awfully hard to hate each other. We know all too well about Mike Napoli going from the Angels to Texas and then C.J. Wilson making the reverse trip this off-season, but there is just so much more that has gone down over the last few years. Here's a quick little history:
2003 – Fresh off the heels of the Angels World Series victory, the poaching started innocently, perhaps even coincidentally as the Rangers acquired Halo castoff Mickey Callaway after the Halos released him mid-season. Snore.
2004 – The first significant roster loss from the Angels World Series team, DH Brad Fullmer jumps ship to Texas. Oh snap, now things are getting real. The signing didn't exactly pay off for the Rangers, but the poaching gauntlet has now officially been thrown down.
2005 – OK, I lied. The gauntlet may have been thrown down, but nobody picked it up yet unless you count the Halos signing Esteban Yan, who spent one-third of the 2003 season in Texas. That and Texas added former Angels Phil Nevin. 'Memba him?
2006 – No poaching this year. Suddenly the premise of this post is starting to look pretty shaky, but stick with me.
2007 – Ah, yes! The first real salvo from the Angels as they stole Gary Matthews Jr. away from the Rangers… and came to deeply regret it just a few months later. But hey, poaching is still poaching.
2008 – Now things are starting to get real. While they didn't acquire him directly from Texas, the Angels made big, big splash by trading for premier slugger Mark Teixeira, who, of course, came up with the Rangers originally.
2009 – An under the radar theft, but a theft nonetheless as Texas went the Rule V draft route (by way of the Mets) to acquire sidewinding reliever Darren O'Day. O'Day had two very good seasons for Texas before he started having arm problems this season, so it was nice pickup for Texas, especially since it weakened the Halos' suddenly suspect bullpen depth.
2010 – This is the year it went from flirtatious poaching to downright hardcore incest. Texas, looking to make their big move back into contention, pounced on the free agent market and signed former Angel great Vladimir Guerrero and reliever Darren Oliver. Both of whom had huge seasons and played major roles in finally breaking the Angels' death grip on the AL West throne. And just for good measure, Texas traded for former Angel catcher Bengie Molina at the trade deadline.
2011 – Stealing from the Halos worked so well in 2010 that Texas doubled down on it by covertly trading for Mike Napoli through the Toronto Blue Jays. We all know this. We were all constantly reminded of this. Let's move on.
2012 – The supposed new Evil Empire strikes back! Not content to sit idly by and serve as the power bottom for the Rangers, the Halos came out this winter and added to their blockbuster Albert Pujols addition by also signing incumbent Ranger ace C.J. Wilson. That was a pretty big blow to strike, but ever the tactician, new Angel GM Jerry Dipoto decided to turn this into a two-front war by raiding the Rangers front office with the most prominent poach being Scott Servais who had been the director of player development for Texas and is now Dipoto's right-hand man. Servais even brought a few minor league coaches and scouts with him.
Is there a lesson here? Maybe. The most common belief is that rivals mostly try and block each other from adding quality players. We see the Yankees and Red Sox do this to each other all the time. What is more rare is to see rivals deliberately take players from each other. It makes sense though. Doing so improves your team while also weakening your rival, plus this rivalry is relatively new, so the players involved don't have that built-in disdain that might prevent them from wanting to sign with said rival. I guess the reason I find it so odd is that by stealing a player away from your rival implicitly suggests that the other team is doing things right, doing thing better than you. Emulating your rival smacks of desperation in many cases. When you are legitimately trailing your rival, that is acceptable and likely why we've seen this pattern develop in this instance.
However, the Angels and Rangers are now, at least on paper, in a dead heat. As such, it will be curious to see if this poaching-gone-wild trend comes to a quick end or, perhaps, gets turned up another notch. Would the Rangers try and repeat their success with Vlad by signing Torii Hunter after this season? Or would the Angels try and rip the hearts out of the Rangers by throwing big money at Josh Hamilton if Texas allows him to hit the open market this coming winter?
With the way this rivalry is starting to shape up, I think anything is possible.