You may not have Vernon Wells to kick around anymore, Angels fans.
No, Vernon isn't on the verge of getting released as an early Christmas present to all the Halo faithful. As strange as it may sound, Wells might be on the verge of losing his status as Public Enemy #1 thanks to the fact that he, wait for it…
might be remembering how to hit!
Gasp! Guffaw! Other onomatopoeia!
I know, I was just as shocked to learn this as you are, but the numbers don't lie.
Here are Vernon's numbers from April 2012:
| | | | | | | | |
| --- | --- | --- | --- | --- | --- | --- | --- |
| AVG | OBP | SLG | BB% | K% | ISO | wOBA | BABIP |
| .225 | .244 | .425 | 2.4% | 15.9% | .200 | .288 | .222 |
Ew, gross. But you know this because you know how bad Wells was in 2011 and those April 2012 numbers are appreciably worse. This caused many fans, myself included, to want to write Wells off as a lost cause.
But lo and behold, the calendar turned to May and now look at our boy:
| | | | | | | | |
| --- | --- | --- | --- | --- | --- | --- | --- |
| AVG | OBP | SLG | BB% | K% | ISO | wOBA | BABIP |
| .277 | .320 | .447 | 6.0% | 8.0% | .170 | .340 | .268 |
By, jove! Those are perfectly reasonable numbers. More gasps!
While his May performance still leaves a lot to be desired, especially considering Wells' salary, I think we can all agree that we would be perfectly happy if Wells continued to produce at that level. Maybe not overly happy since that slash line is almost right on par with what Peter Bourjos posted last season, but happy enough.
If you are an undying cynic like myself, you are surely looking at those May numbers dubiously. I don't blame you. It is relatively small sample size and we saw Big Vern flirt with being productive for two weeks at a time before only to see him crash and burn again.
But allow me to present you with another piece of evidence in support of Wells.
Here are the pitches that Vernon swung at during the month of April. Note the absurd amount of pitches well up and out of the zone.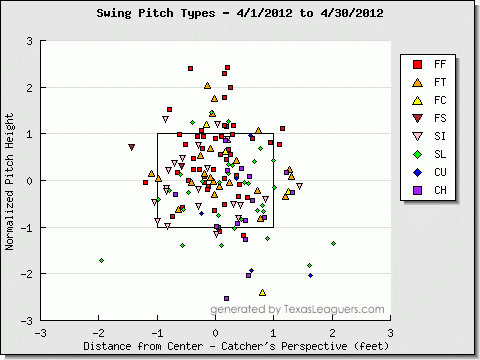 Now here is May, presented with the caveat that he had 32 fewer plate appearances than in April.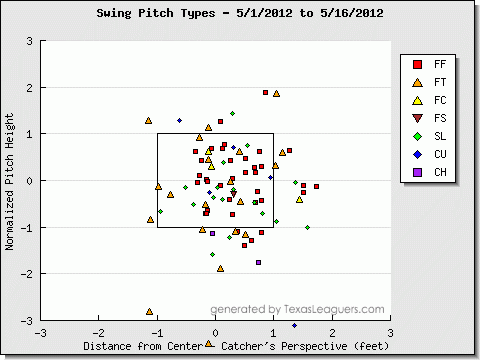 Even with that caveat, it doesn't take a genius to see that Wells has cut down drastically on swinging at pitches way outside of the strike zone. He is still swinging too much for most people's taste, but it is still an improvement and one that surely has a lot to do with his resurgence this month. If you swing at better pitches, you make better contact. If you swing at less bad pitches, you get on base more. It is all so simple, it is just a shame it took him so long to figure it out.
Alright, that is a bit of hyperbole. I don't know for sure that he has actually "figured it out." His overall swing percentage numbers are still at career-high levels and miles higher than his prime days in Toronto. On the other hand, his line drive percentage is also at a career-high, so he is making good contact still. Really, there are just so many mixed signals here.
The only real conclusion we can draw here is that only time will tell whether or not Wells is finally on the rebound for real, but at least there is a potential bit of light at the end of the tunnel for Wells now which is something Angels fans haven't been able to say pretty much since Vernon arrived in Anaheim.