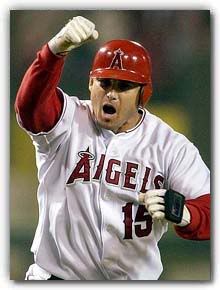 Later today, Major League Baseball will announce the 2012 class of entrants into the Baseball Hall of Fame in Cooperstown. Barry Larkin's name almost defintely will be announced as being selected for enshrinement. Jeff Bagwell, Jack Morris and Tim Raines all could as well, but probably won't. One name that definitely won't be called is that of Angel great Tim Salmon.
As of this writing, 134 of the over 500 Hall of Fame ballots have been revealed, a grand total of one vote has been cast in favor of the Kingfish entering the Hall. That is a damned shame.
No, it is not a shame that Salmon won't be getting the call for Cooperstown. Even the most biased of Angels fans has to admit that while he might be the finest player in the history of the franchise, he just isn't Hall of Fame material. Aside from a Rookie of the Year award and one Silver Slugger, Salmon has no big shiny hardware to show off to the voters. He never led the league in any category ever. His career OPS+ is good, but not great. He finished his career with 299 homers, a number that in and of itself is disappointing because he couldn't even muster one more big blast to make his total a nice, round, spiffy 300.
The shame is that after a career of being under-appreciated outside of Anaheim, the greater baseball community is going to botch its one last opportunity to give Salmon that modicum of respect he deserves.
As we all know far too well, Tim Salmon was never even named to an All-Star team in his 12-year career. This despite his Rookie of the Year campaign, his five 30+ homer seasons and two years in which he was good enough to finish seventh in MVP voting. Most importantly, he did all of this "the right way," something the BBWAA has been placing at a premium while voting the last few years. In an era in which anyone who ever looks like they lifted a dumbbell more than once has been declared guilty by association with PED users, Salmon has remained as clean as a whistle. Does he not deserve at least a little bit of credit for that? Does he not deserve at least a little bit of credit for being one of the classiest guys to play the game?
I understand that it is not the Hall of The Mr. Nice Guys, but if the BBWAA wants to turn the whole Hall of Fame process into one big moral crusade, should they not be rewarding the most moral players?
I'm not asking the writers to vote Salmon into the Hall for being such a good little Christian boy, merely for them to show him a modicum of respect by voting for him enough to stay on the ballot for just one more year. All that would take is a lousy 5% of the vote. Sadly, Mr. Angel has a measly 0.7% of the vote right now with over one-fifth of the ballots already counted.
To me, giving the Kingfish that 5% for one year is the tip of the cap he deserves that says, "hey, you had a very good career and we appreciate what you did." It would be the ultimate gesture to a guy to let him know that he isn't destined to be under-appreciated forever.
But alas, it is too late. All the votes have already been cast and counted and if the voting trend continues, Salmon doesn't have a chance at getting that 5% and staying on the ballot, forgotten about yet again. I guess asking for that 5% vote from the BBWAA is too much to ask for when Salmon still hasn't even had his number retired by the Angels despite being arguably their greatest player ever. At least there is still hope that might happen.