Jerry Dipoto and the Angels just can't stop handing out big money contracts. First it was Albert Pujols, then it was C.J. Wilson and now Howie Kendrick. And who could blame him, handing out money is just so much fun!
Sure, the Angels have given out almost $400 million in contracts this winter, but why should the party stop now? The free agent market has all but dried up, but there are plenty of in-house candidates for massive paydays. The question is, who is most deserving of the next lucrative contract extension?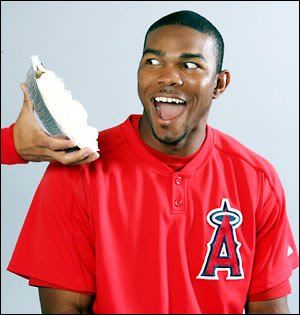 For $33.5 million, you can hit me in the face with as many pies as you want.
Erick Aybar? We know the Angels are talking to him about an extension so that's a good start. We also know Aybar is one of Arte Moreno's personal favorites. We also know that while he has been solid, he has never blossomed into a star and now has top prospect Jean Segura nipping at his heels, ready to take over at shortstop in the next year or two.
Maicer Izturis? If they can't lock up Aybar, keeping Izturis from hitting the free market after this off-season would be a very nice hedge bet as Maicer is perfectly capable of holding down the fort at shortstop until the aforementioned Segura is ready.
Dan Haren? He's been great since the Angels traded for him and he has never been shy about his desire to stay in Southern California. With how consistently good and exceedingly durable he has been, he is a fine candidate for a contract extension. Then again, the Angels have him locked up through 2013 and he'll be 32 by then, so why rush to sign a pitcher through his mid-thirties?
Ervin Santana? Ervin is just like Haren… only not quite as good… and not nearly as durable. But, hey, he's two years younger. That counts for something, right? Maybe they should just give him an extension so that we can finally stop hearing his name in trade rumors EVERY SINGLE YEAR.
Chris Iannetta? He can be a free agent after this season and he's a catcher not named Jeff Mathis. That's good enough for me.
Albert Pujols? You know, just to be sure he retires as an Angel. Gosh, I'm funny.
Torii Hunter? I'm really funny.
Bobby Abreu? Stop! You're killing me!!!
Vernon Wells? No, seriously, just stop.
[polldaddy]5830502[/polldaddy]