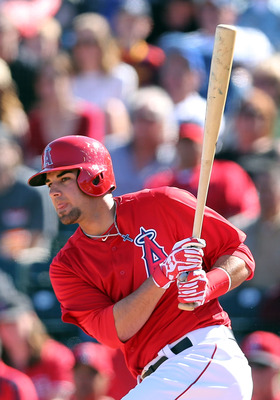 Every year I like to publish one article which focuses on the predictions of your Angel Minor Leaguers. Last year, we successfully predicted Kaleb Cowart's, Kole Calhoun's, Donn Roach's and Eswarlin Jimenez's dominant 2012 performance. Conversely, I didn't think hitters in A-ball would ever touch Austin Wood, and to be fair they didn't. Still, his lack of control led to a somewhat inaccurate prediction on my part. Also, Chevy Clarke couldn't put it all together for a full season in 2012 as I thought he would. Still it's hard to argue with a nearly 70% success rate when it comes to predictions. And I'm not sure we can call them predictions as much as educated guesses based off my experience in scouting. Regardless, here are the minor league movers and shakers for 2013.
1. Dane De La Rosa – He's a 30-year-old reliever in AAA, so it's difficult to consider him a prospect as much as he is a minor league journeyman. Still, blessed with size and a 98 mph fastball, I think Dane De La Rosa will break into the Angels bullpen sometime in 2013. (EDITOR'S NOTE: De La Rosa got called up to the roster after this article was written, also, Scotty might be a wizard.)
2. Randal Grichuk – I don't think Grichuk or any of the AA prospects this season will be promoted, but I do think we'll see growth and maturity at the plate from C.J. Cron and Randal Grichuk. Grichuk specifically will double his walk total from 2012 and hit for enough power and average that he'll catch a lot more attention headed into 2014. I expect a quicker adjustment to advanced competition from Grichuk than any of his teammates.
3. R.J. Alvarez – Sending Alvarez to Advanced-A Ball may have more or less been a strategy to simplify life for the young reliever. The Angels don't want to rush him too quickly only to find he's an unfinished product or that he's developed some non-productive pitching habits. Still, I can't envision Alvarez staying at Inland Empire any longer than a month or two. His deceptive short-arm delivery, high 90's fastball and sharp breaking slider should help him mow down the competition. I expect Alvarez to finish the season in the high minors in 2013, if not in Anaheim.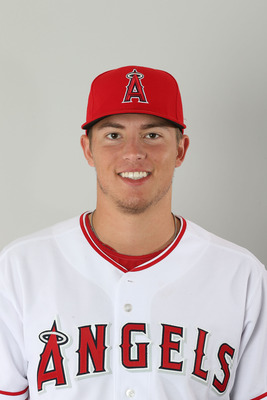 4. Alex Yarbrough – Finally, it seems like others folks are catching on to what I've seen from Day 1 with Yarbrough. That swing and approach of his are just way too good not to produce. He's starting in High-A Ball and one of two things are going to happen this year (assuming he like most prospects stays healthy). One, Taylor Lindsey in AA will prevent the Angels from promoting Yarbrough and he'll tear the California League apart or, two, they'll promote Yarbrough to AA or AAA anyway.
5. Michael Morin – From the moment I saw him pitch in a Spring Training game, I knew there was something to this Morin kid. His fastball really isn't anything special, especially for a reliever, but he has a devastating change up that he can throw for a strike and use in any count. Relievers like that are usually highly successful, such as Ryan Madson or Fernando Rodney (once he started throwing strikes, that is). Morin is beginning in the Cal League, but I see him finishing the year in AA.
Special Note – I predict that players such as Travis Witherspoon, C.J. Cron, Kaleb Cowart and Michael Roth will have solid seasons in the minor leagues. However, I don't envision them jumping up any levels or making any ground-breaking adjustments that launch them up the prospect rankings.
However, there are two special cases fans should be away of here. Michael Roth is the first. Jumping all the way to AA usually only happens for elite college pitching prospects. Roth was one of the best in college for a long time. However, his stuff never excited scouts. Still, the fact that he's already in AA, is left-handed and has a long history of success should tell you something. Keep an eye on him.
The second case I just learned about this weekend along with Angelswin Prospect Kid Scott Stedman. Former big-bodied reliever Reid Scoggins (ranked 29th entering the season) is armed with a high-90's fastball and fringe slider and change up. I didn't think there was anyway he'd ever be a starter, not even in the minor leagues. However, the Angels have transitioned him to a starter and moved him up to A Ball. This is an exciting development because if he's successful, the Angels would suddenly have a young starter throwing in the high 90's climbing the system. Currently, the only one of those we have is Austin Wood and despite excellent off-speed offerings, he's still viewed more as a reliever given his struggles with throwing strikes. This is certainly another situation for fans to keep an eye on.