The Angels have capped off a marvelous road trip with a sweep of the Brewers, a swept that wouldn't have happened had it not been for one J.B Shuck and an expertly placed first base bag. C.J Wilson wasn't all too bad in his start, though he wasn't anything spectacular as he was able to barely make 6 innings while giving up 3 runs (2 earned). In a shocking turn of events the bullpen managed to hold on to the lead, even though DDLR made it exceptionally close by allowing a hit and 2 walks in 0.1 IP.
Does it shock anyone else that once control of the team was handed over to the youngun's the Angels started winning big? Players like Kole Calhoun and Jimenez have been killing it since they came back up to he Angels, each coming up with two hits in todays affair. These kids were able to push past Kyle Lohse strong outing and hurt the bullpen when it mattered most. I haven't seen the Angels hold the ability to come through in the clutch as well as they have recently, and I'm sure it has a lot to do with the kids on board.
So long Brewers, lets hope our next stop with the Rays is just as successful.
Game Notes
— The game started off rather slowly for the Angels, with only Kole Calhoun coming up big early with the lone RBI off of Lohse. After the starting pitching came out of the game things changed considerably for the Angels, with the Angels tagging Wooten out of the 'pen for 4 runs in the 7th, most coming off of J.B Shucks 3 run double. It was quite the interesting bases clearing double too, with a groundshot bouncing off the first base bag and sailing into RF where it proceeded to pinball a bit more, allowing Shuck to make it to second. Shuck and Calhoun were the lone Angels with RBI base hits in the game, Calhoun with RBI's in multiple AB's while Shuck pulled em all in in one go. While Shuck is quite the poor defender his hitting abilities really speak for themselves. He'll make a nice trade chip this offseason to make room for Calhoun, or it could be the other way around.
— Wilson had one of those limbo starts where you aren't really good, but you can't honestly say you did bad. He got the Angels through 6 innings relatively unscathed aside from the 3 runs that came across the board during his time on the mound. Lohse, on the other hand, was killing the Angels. Well, he wasn't really burning through them as he allowed 7 hits and a walk, it was mostly the Angels failing to come through in tight spots. Still, Lohse pitched himself a W, but his bullpen wasn't able to deliver it to him as promised. We've seen that so many times as Angel fans, so it's nice to see someone else's team fall apart.
— Can you believe that Frieri has 30 saves on the season? Based off how his season has been going I would have expected it to be much less. On top of that he pulled a 5 out save, coming in with loaded bases and striking out two hitters in the 8th to make it to 9th where he pulled together a painless save. With the way his seasons been going I can't tell if this save is out of character for him or his bad stretches. I'm still looking for the Angels to bring on a more experienced, reliable closer and let Frieri work a far less stressful setup man role in 2014.
Halo Hero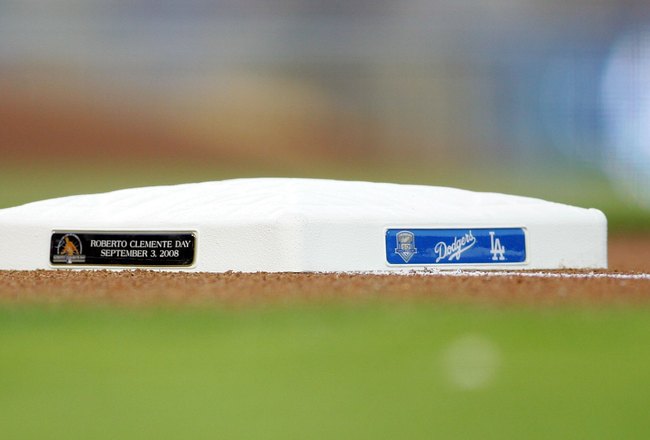 Thank the lord for perfectly proportioned dimensions. Thank you first base bag, for being in the right place at the right time. Who knows what would have happened had Shucks hit had not taken a wild bounce straight off the bag.